St. Croix
St. Croix is the largest island in the U.S. territory. It has a beautiful rainforest, rolling hills, and the small towns are home to approximately 60.000 inhabitants. The biggest towns are on opposite ends of the island. Christiansted on the eastern end and Frederiksted on Christiansted on the east. Because of this, the island's nickname has become "Twin City". The total area of the island is 214.66 square km.
The terrain is quite rugged but not extreme. Mount Eagle is 355m high and the highest point on the island. The official spoken language on the island is English, although a local dialect called Crucian is also spoken. Yearly rainfall is extremely variable with the eastern part of the islands quite arid with a fair amount of cactus, while the western end has palm trees and lush vegetation. The island lacks fresh groundwater and freshwater streams or rivers thus extended drought has always been a problem (however with modern infrastructure this has become a thing of the past).

St. Croix Island is the largest of all USVI islands. The island has the international airport Henry E. Rohlsen from where tourist can catch direct and connecting flights between the islands. The airport connects St Thomas Island, Puerto Rico and other Caribbean Islands.
The is a ferry service operating between St. Thomas and St Croix Island.
OW VI Ferry
service that departs from Charlotte Amalie Seaplane Port on St. Thomas and heads to Gallows Bay Christiansted on St. Croix. The ferry runs two round trips a day, seven days a week. You can check what is available, prices and times simply by using the search box on our website or by clicking
here.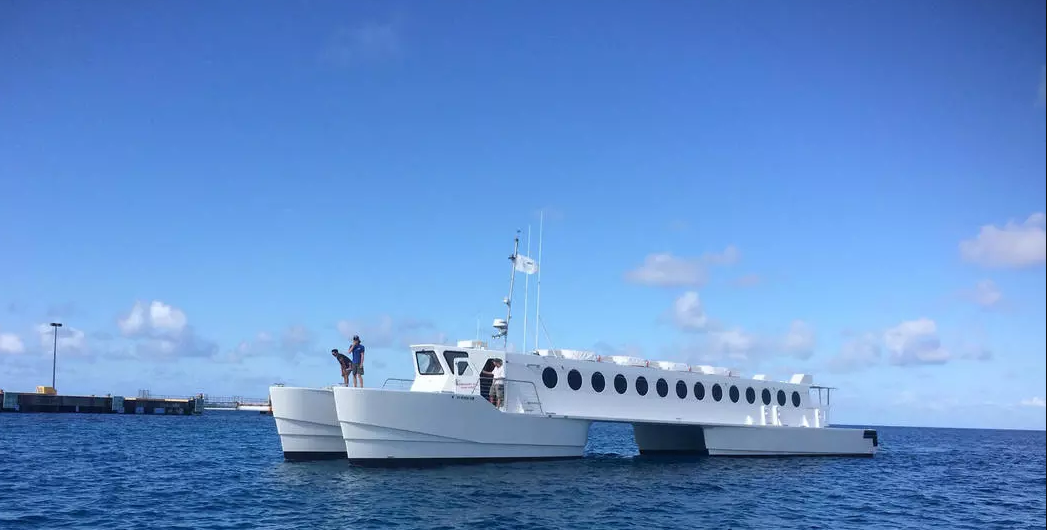 BEST PLACES TO VISIT ON ST. CROIX
Point Udall – The most eastern point of St. Croix. It was named after Stewart Udall, a U.S Secretary of the Interior under presidents Lyndon Johnson and John F. Kennedy.
In 2000, there was a sundial knows as the Millennium Monument built above the point for New Year's celebration. A moderately difficult trail leads down to the point from the Monument, composed of rotated and uplifted volcanic rock.
Village Botanical Garden – A 16 acres botanical garden that is set in and around ruins and restored buildings of a Danish sugarcane plantation. It consists of over 1500 native and exotic species and varieties including cactus and succulents, orchids, a dry palmetum, native orberetum, rainforest, naturalized forest and bromeliads. It also has a library of 500 volumes, inside a post-emancipation cottage, restored early 1980.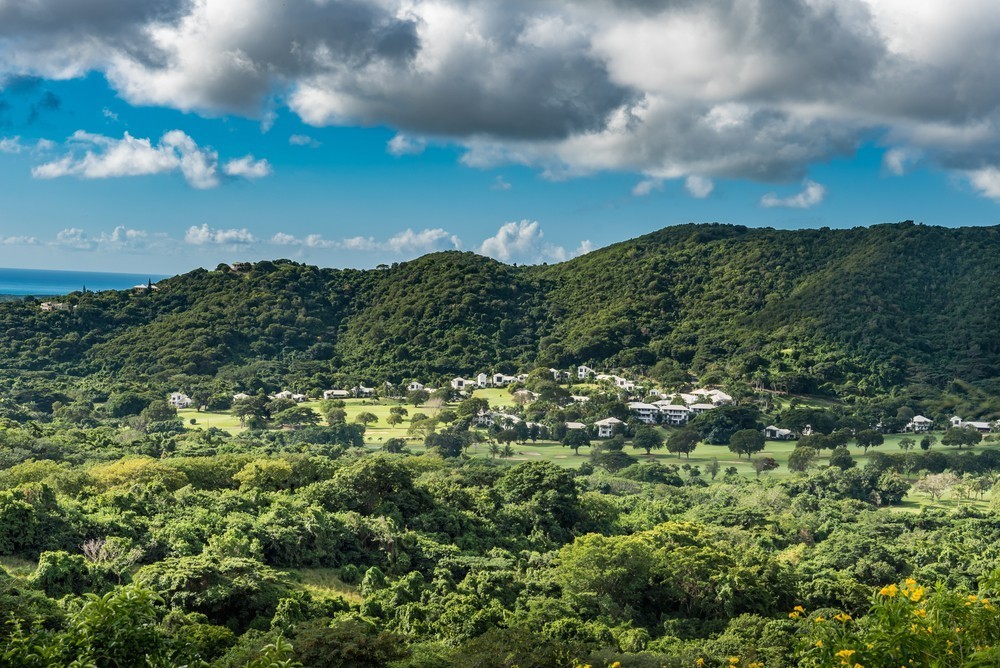 Christiansted – The largest town on St. Croix. It is the home to the Christiansted national historic site and former capital of the Danish West Indies. It consists of 18th-century Danish-style buildings built by African slaves. Stone buildings in pastel colours with red tile roofs next to cobblestone sidewalks. The symmetry, with streets pointing towards the waterfront, makes it popular for a walk. The wharf has access to a lot of diving attractions on the northern side of the island and has a lot of small hotels and restaurants.
Fort Christiansvaern – Constructed circa 1749 and rebuilt in 1771 after hurricane damage. It now is a national historic site, the best of the five remaining Danish-build forts in the Virgin Islands. It was made to protect the colony from pirates, hurricanes and slave emancipation. The forts cannons and guns have never been fired in a conflict. After 1878 the fort served as a prison and religious services.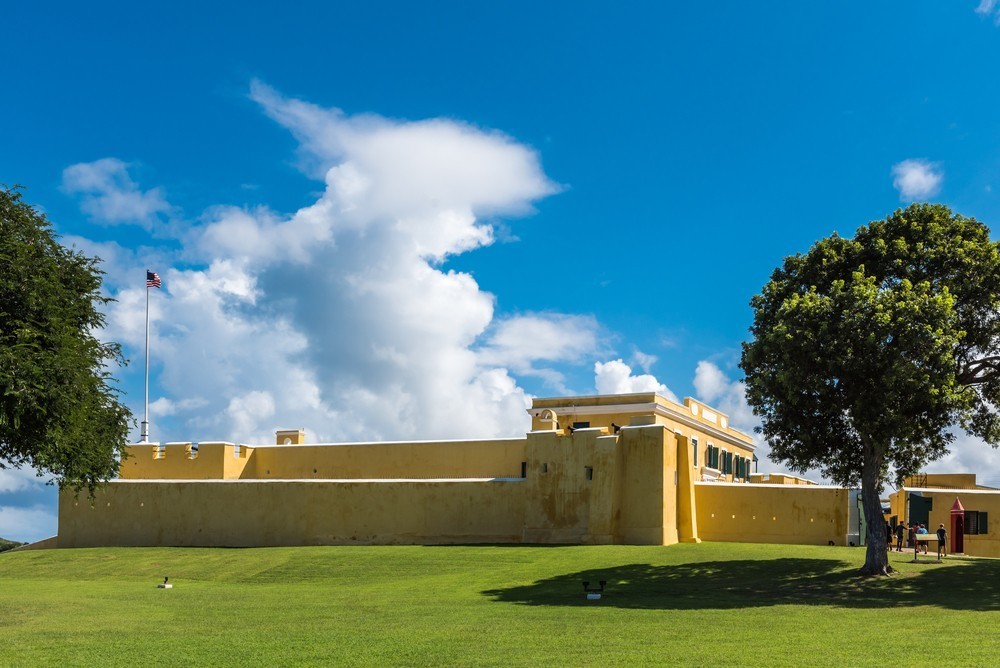 Buck Island Reef National Monument – A small, uninhabited island northeast of St. Croix. It is one of the few places where brown pelicans and threatened least terns nest. The majority of the monument is underwater, but there is enough to experience and explore in the water. One of only three underwater trails in the U.S. is located here, where you will spot over 250 fish species and other marine life such as spotted eagle rays, lemon sharks, nurse sharks, whitetip reef sharks and blacktip sharks. On the western part of the island, you will find Turtle Beach. This is a pristine white sand beach and National Geographic has voted it one of the world's most beautiful beaches.
Frederiksted – Often referred to as "Freedom City" by locals because the town was the site of the emancipation of slaves. Frederiksted has two water ports and is the port for cruise ships and ferries visiting the island. It mostly is a sleepy town and has little to no retail shopping. The Frederiksted Pier offer scuba diving in the calm waters. There are several beach bars, restaurants and a few water sports companies.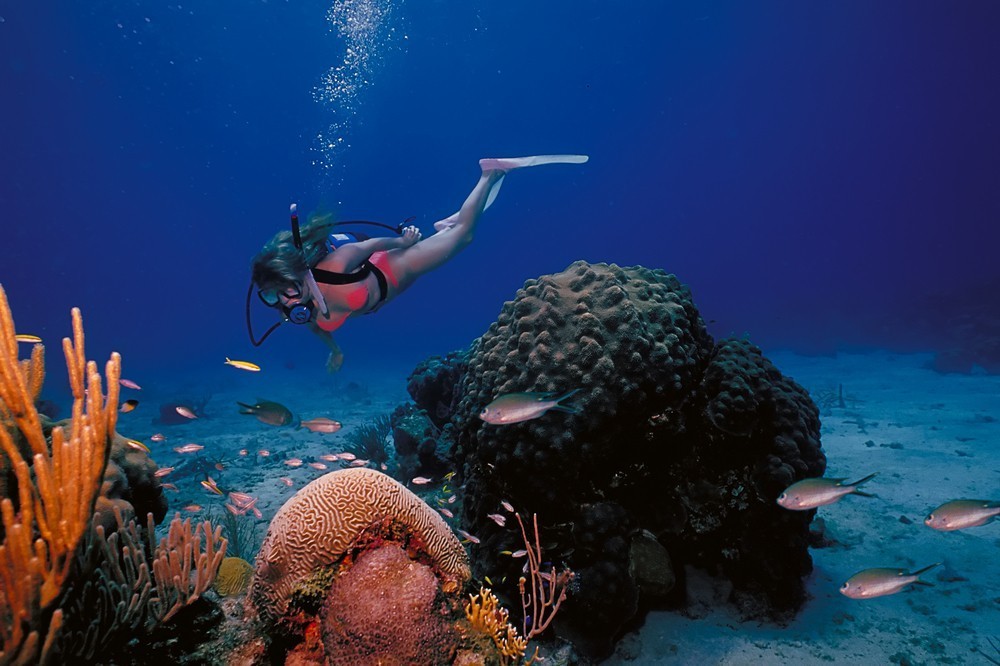 BEST THINGS TO DO IN ST. CROIX
Diving – Frederiksted is well known for reef diving and wreck diving. The waters surrounding St. Croix are warm, with temperatures from 25 °C (77 °F) – 30 °C (86 °F). There are two really popular underwater sites for scuba divers which are the Frederiksted Pier and a deep water drop-off at Salt River Bay National Historical Park.
The sandy bottom and shallow waters are perfect for Discover Scuba Diving programs, night diving and underwater photography. From Salt River to Cane bay, there is a deep trench, where tropical fish, coral reefs and sea turtles may be seen.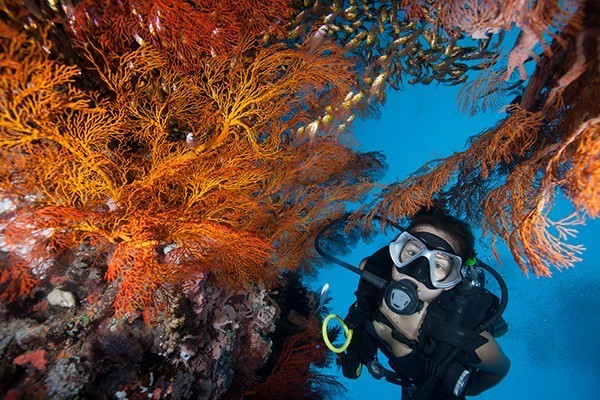 BEST PLACES TO EAT & DRINK ON ST. CROIX
Galangal Restaurant (luxury) – Specialized in French and Asian Cuisine, an extensive wine list and hand-crafted cocktails. They have an intimate indoor dining room in the Great House in Christiansted, with Asian touches they have collected over the years. Each summer, they travel abroad and bring back the authentic curry powder from the regions of Thailand. They also incorporate freshly caught fish and locally-grown products into their menu.
Rumrunners – at the Taste of St. Croix, the Caribbean and Continental cuisine has won the People's Choice Award eleven times. Opened seven days a week for lunch, mid-day, dinner and Sunday brunch, serving seafood and steaks; you even get to choose your own lobster! They offer homemade desserts and to satisfy your thirst, they have a great variety of cocktails and ice cold beers. Out on The Deck Bar, they serve panini sandwiches, little bites and cool cocktails with fantastic harbour views and sunsets.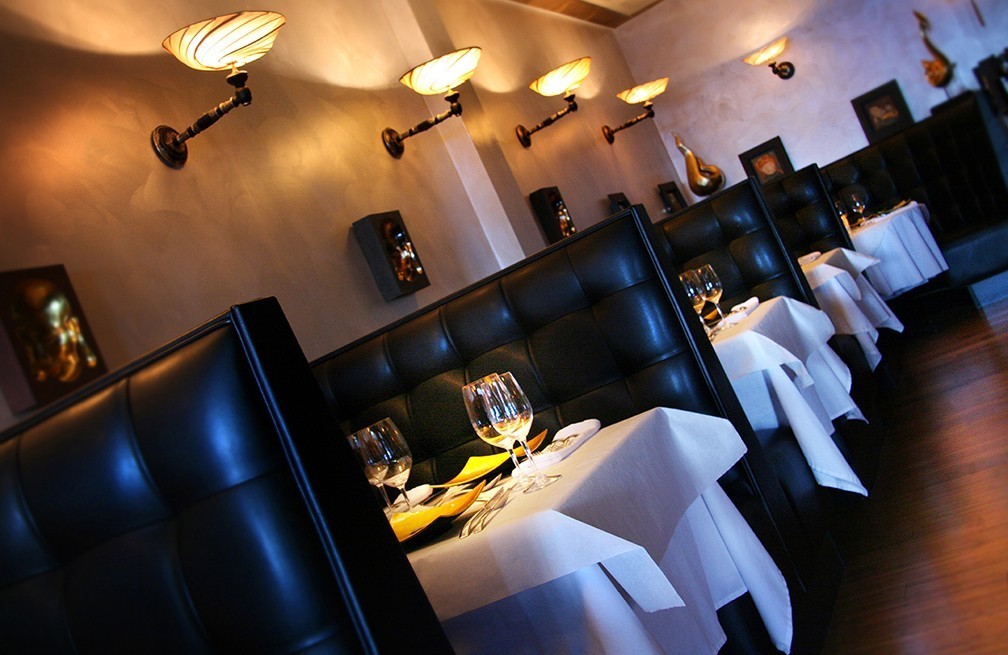 Rowdy Joe's – Award-winning chef Scott Bryan cooks up food using local ingredients from many farms and fisherman. You can also enjoy an espresso, Wi-Fi connection or go inside to watch sports with a fruit margarita. Don't leave without trying the homemade ice cream, like French vanilla or espresso white chocolate.
La Reine Chicken Shack (budget) – The best BBQ chicken on St. Croix. It is slow cooked in pure coal and the great taste comes from a special seasoning. The full menu consists of fish, rice and beans, ribs, steak, pork, chops and traditional sides. Every Saturday, they serve whole roasted pork, along with a full bar! St Croix Cruzan Rum is available everywhere and it is made at a distillery in Frederiksted. Be aware of local home recipes, they are very strong! Local fish, goat and pork and are amongst the culinary flare. Fresh seasonal vegetables are always available around the island throughout the whole year. There is a culinary festival held each year in April, called the St. Croix Food & Wine Experience which includes dinner with celebrity chefs.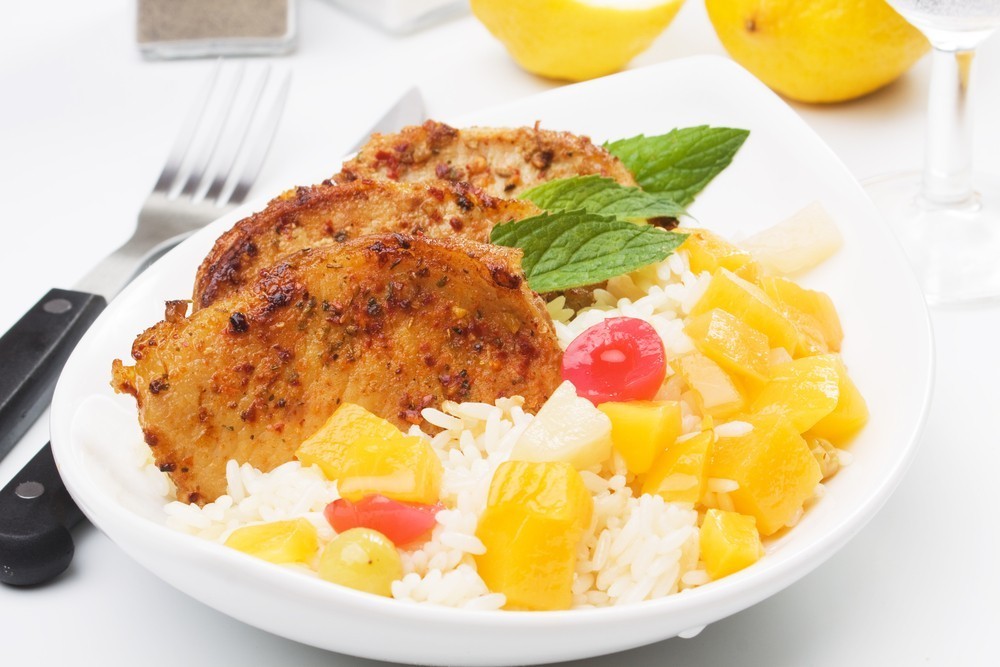 The nightlife of the Virgin Island is one full of music and dancing; great bars with cocktails and live music is part of the culture, as are regular festivals. The main nightlife happens in the cities of Frederiksted and Christiansted. You should not be having any trouble finding jazz, reggae and rock music around.
The Cormorant Hotel and Beach Club near Christiansted have events every single night of the week with dancing on the weekends. Rhythms at Rainbow Beach, located on the West part of the island is great for a cocktail on the beach. St. Croix also has a casino, the Divi Carina Bay Casino at the Eastern End. Gambling, food and entertainment are all available here.