Diving Virgin Gorda
It is easy and fun to dive near Virgin Gorda. Shallow water with the sandy bottom, pinnacles and sloping reefs perfectly fit for the beginners while old wreck is a perfect spot for the advanced divers. The wreck is full of various fishes, sharks, and rays. Besides that, other popular locations are: the Aquarium which is full of colorful fishes and vibrant colors and the Mountain Point made up of three smaller diving sites that feature macro sea features. Together with the best diving operators Sunchasers Scuba and DVI, we invite you to explore the best diving sites near Virgin Gorda.
Dive BVI
CURRENT STATUS (post-Hurricane Irma & Maria) - Please note, the below information is based on the pre-hurricane situation. We will revise any necessary information as the recovery efforts become clear, please check back for updates.
---
About DVI
Dive DVI offers the best equipped and most experienced diving in the Virgin Islands since 1975. It is the best choice for snorkeling, diving and day tripping. With over 10,000 certifications issues, their instructors are always ready to help you achieve your goal. Whether you are on a full course, or just need to complete Open Water Dive requirements, their staff is able to offer SSI, PADI and NAUI dives.
Weekly Dive Trips
Daily morning dives and afternoon trips depart from 3 different locations:
Leverick Bay
Yacht Harbour
Scrub Island
Tuesday Morning – 2 tank dive trip to the RMS Rhone shipwreck. A must for all divers, both dives on the wreck so you can visit almost all of the site.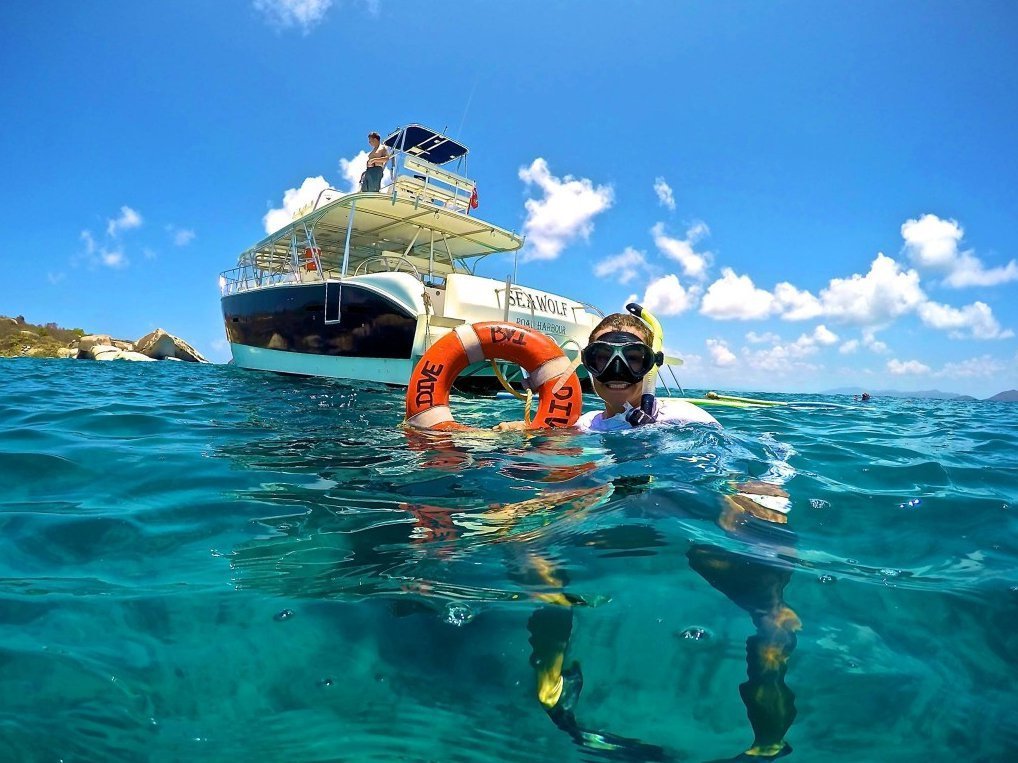 Thursday 2 Tank Safari – This trip is great for families as it includes both diving and snorkeling. Departure from Yacht Harbour is at 09:00 AM (09.30 AM from Scrub Island). You will then cruise over for a fantastic lunch at the Cooper Island Beach Club and then head to another snorkeling spot. You will arrive back at Virgin Gorda at 04.30 PM.
Saturday Afternoon – 1 tank dive and snorkel trip to the RMS Rhone shipwreck. This trip visits the shallower parts of the wreck and is designed for all snorkelers, experienced divers and novice divers.
Night Dives – Scheduled every Thursday night or on request with a minimum of 4 divers.
Dive Training
With the variety of course fees and class times, you can always pick what fits your budget and schedule best. They will make sure you are comfortable with the skills and equipment you need to dive. The SSI Open Water Diver certification training consists of the following: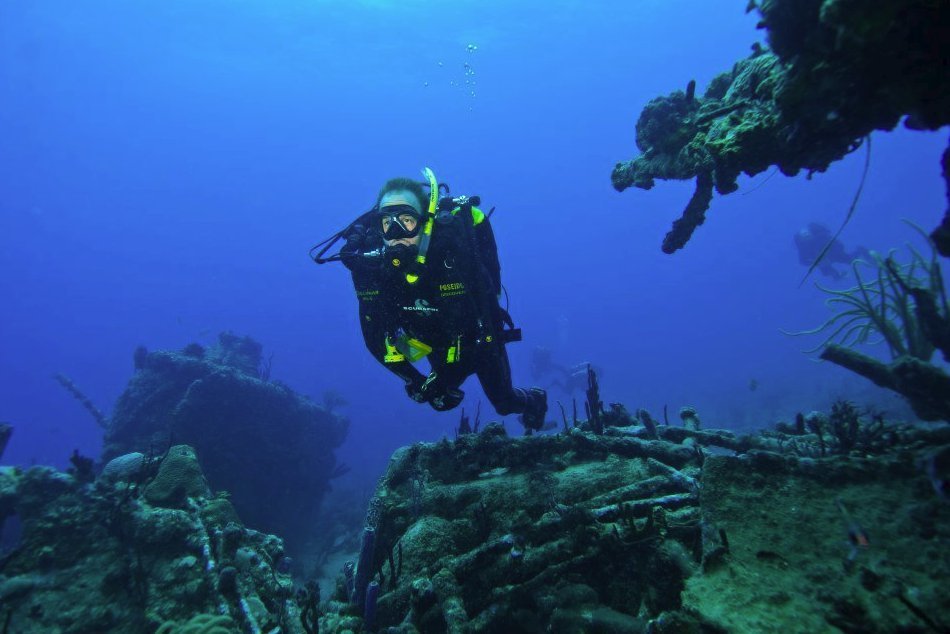 Academics
Pool Training
Open Water Sessions
Other courses and training are:
Scuba Diving
Checkout Dives
Continuing Diver Education
Rebreather Diving
Specialty Courses
SSI Medical Waiver
Diving Sites
From the beautiful coral reefs of Great Dog to the history of the RMS Rhone shipwreck and fish-filled currents flowing around the Cockroach Islands, you are sure to find what you are looking for. The most popular dive sites include: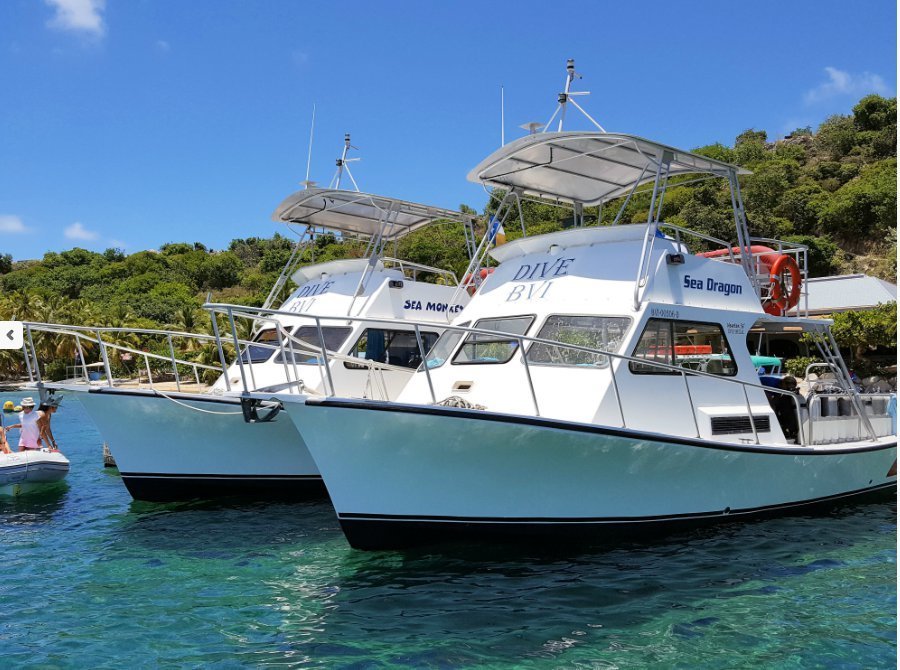 Mountain Point, the Aquarium and The Invisibles on Virgin Gorda
The Wreck of the RMS Rhone
The Wreck of the Chikuzen
Diamond Reef, Lee Bay and Brewers Bay on Scrub Island
The Chimney, Wall To Wall and The Flintstones on The Dog Islands
Ginger Steps, Alice's Backside and Alice in Wonderland on Ginger Islands
Dry Rocks East, Wreck Alley and Devil's Kitchen on Cooper Island
Sunchasers Scuba
CURRENT STATUS (post-Hurricane Irma & Maria) - Please note, the below information is based on the pre-hurricane situation. We will revise any necessary information as the recovery efforts become clear, please check back for updates.
---
About Sunchasers
The dive shop is located in the North Sound, Virgin Gorda at the Bitter End Yacht Club. Convenient rendezvous diving or hotel pick-up from Biras Creek Resort, Leverick Bay and Yacht Harbor in Spanish town is available. If you manage to already be on a boat, they can still meet you and show you the best dives sites around.
Dive Courses
Sunchasers offers the PADI Discover Scuba Diving course, where you can learn and dive in just 4 hours. Take the PADI Open Water course and continue all the way through Divemaster if you wish to.
Please note: To take part in any PADI dive courses, a medical questionnaire will need to be completed. The courses available are as follows: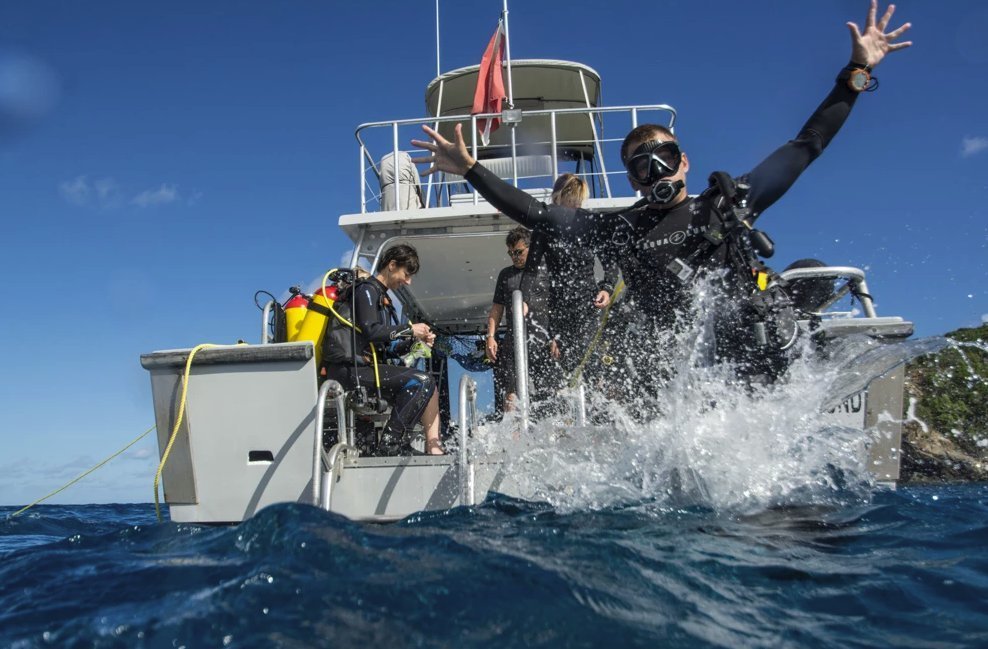 Bubblemaker, for the smaller ones
PADI Discover Scuba Diving
PADI Open Water Course
Open Water Referrals
PADI Advanced Open Water Course
Emergency First Response
PADI Rescue Course
PADI Divemaster Course
Dive Sites
From arches, massive coral heads, canyons to the world famous RMS Rhone, and a plane wreck. All dive sites are within 15 to 45 minutes by boat from the dive shop. It all depends on the divers on board and the weather conditions. Some of the dive sites include: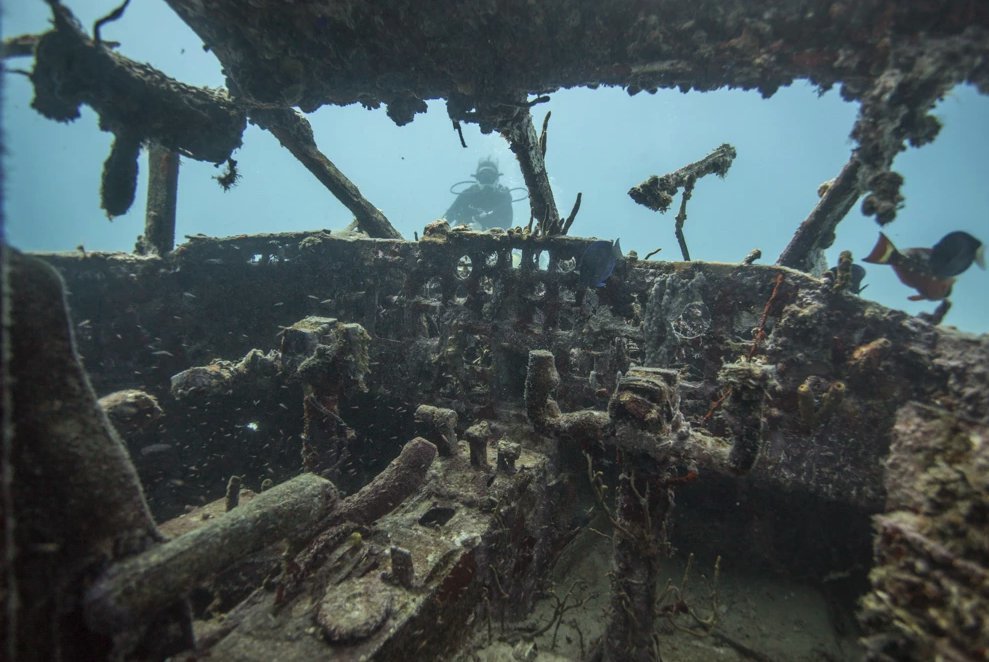 The Invisibles and The Chikuzen in unprotected areas
Cow's Mouth and Big Grotto in the Dog Islands
Alice in Wonderland and Ginger Steps on Ginger Island
Cistern Point and Vanishing Rock on Cooper Island
Rhone Bow and Rhone Stern on Salt Island
Accommodation
If you're looking for a place to stay while diving, The Bitter End Yacht Club is the answer. You can enjoy the seaside bungalows and enjoy the resort's 60 acres and their anchorage as your own playground. The Bitter End Yacht Club generates their own electricity, distills its own water, uses solar power and irrigates the garden with waste shower water.