St. Thomas
St Thomas is the main island of the U.S. Virgin Islands and is home to the capital, Charlotte Amalie at the heart of the island. With only 32 square miles in size and a population of around 51,000, this gorgeous Caribbean island destination has a lot to offer. With its mountainous edges, stunning turquoise waters, rich history and culture there's plenty of fun things to see and do all year round.
On St. Thomas you'll find around 40 beaches and we would recommend to go snorkelling, scuba diving, sailing, kayaking, fishing, windsurfing or hire a boat charter. If you prefer to explore the island take the Skyride to the highest point on St. Thomas. Spend at least one day downtown to take in the historical sites like the famous 99 steps to pirate Blackbeard's castle (U.S. National landmark) or enjoy the $1,600 duty-free shopping limit on main street.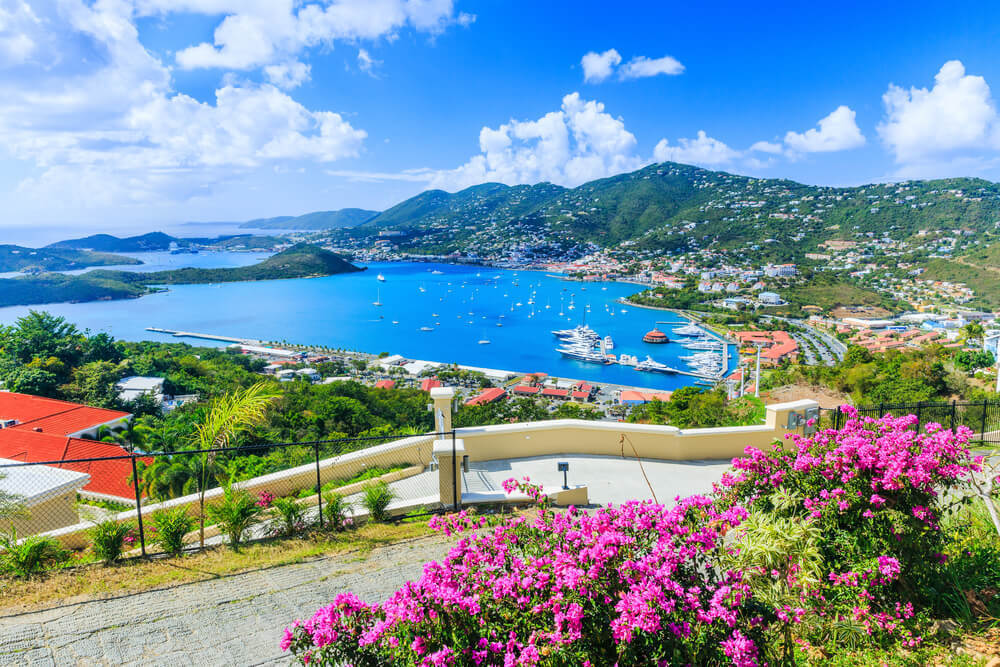 Charlotte Amelie's historic center and waterfront boast some of the best preserved colonial-era buildings in the Caribbean. Founded in 1666 by Danish colonists, the old streets and Fort Christian are a must see if you're visiting the island. Particularly popular with cruise ship tourists during the day, a concentration of jewelry stores is found on and around Main street. The shops and restaurants in central Charlotte Amelie all tend to close up towards the early evening due to the daytime cruise passenger tourism focus here (most ships set sail in the evening toward the next cruise destination), so if you're looking for some nightlife take a taxi 30mins to Redhook in the east where they party 'till late. If you're staying for more than a few days and fancy playing a round of Golf, head over to the famously challenging Mahogany Run course on St Thomas' rugged northern coast. Looking for a day activity for the whole family? Coral World sea life center showcase an impressive array of local species, and also includes a unique Caribbean Reef Encounter experience which takes you under the waterline to view the bustling and vibrant coral reef below.
Travelers can easily access St.Thomas either by air or by sea. From the international airport, travelers can book direct or connecting flights to the US mainland or Puerto Rico. The local flights can be made between St.Thomas and neighboring Caribbean Islands.
Travelers can book their boat ticket from st. Thomas to Tortola, Virgin Gorda or Anegada.
Tortola Fast Ferry
runs regular ferry services between the US and the British Virgin Islands. Red Hook and Charlotte are the main connecting harbors between the British Virgin Islands and the US Virgin Islands. From St. Thomas, Island travelers can book their tickets with
Inter-Island ferries
to the neighboring islands.
You can simply book your ferry tickets between St. Thomas, St. John, Tortola, Anegada and Virgin Gorda simply by using the search box on our website.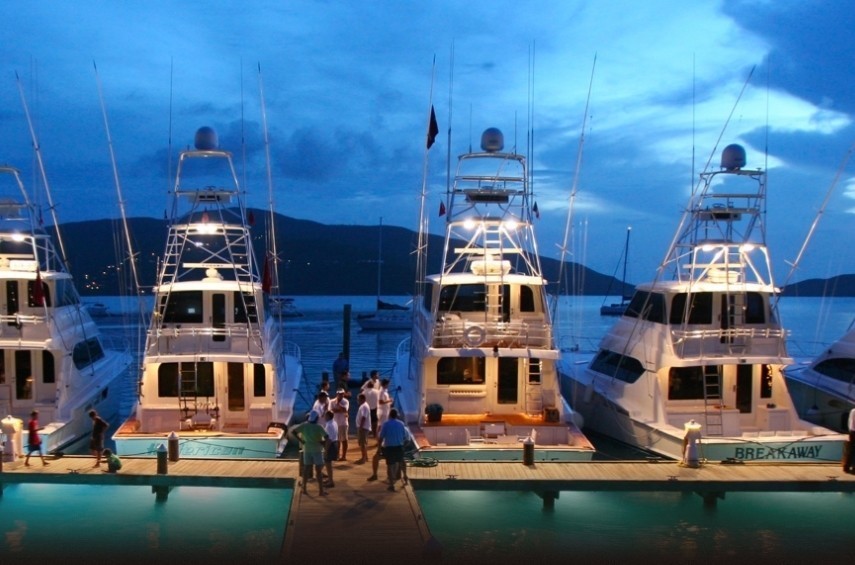 BEST PLACES TO VISIT ON ST. THOMAS
Charlotte Amalie - Located on St Thomas lies the largest city and capital of the U.S. Virgin Islands. Founded in 1666 as Taphus which means "Beer House" then renamed in 1691 after Charlotte Amalie of Hesse-Kassel, queen to King Christian V of Denmark-Norway. This deep-water port, once a haven for pirates, is now one of the busiest and most popular cruise-ship destinations in the Caribbean. Now referred to Downtown, Charlotte Amalie has a lot to admire. Take a stroll along the cobblestone streets to see the Danish colonial architecture, or the historic sites like the St Thomas Synagogue and Frederick Lutheran Church and don't forget to make the most of the duty-free shopping.

Skyline Drive Overlook - For the best views of St Thomas head to Skyline Drive Overlook, offering stunning panoramic views of the harbour, Charlotte Amalie, Hassel and Water Island. Don't forget to bring your camera.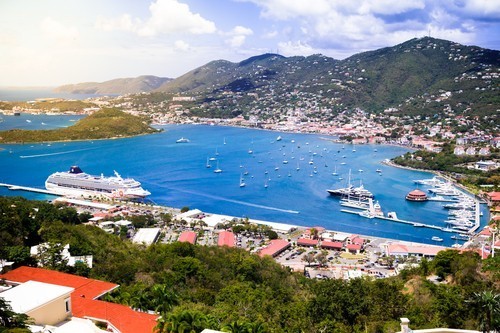 Magen's Bay - Located on the North side of St Thomas lies the heart-shaped Magen's Bay. This stunning white sandy beach stretching nearly a mile long has beautiful crystal clear calm waters making this beach the most popular tourist destination on the island. The beach has changing facilities, water-sports, food vendors, picnic tables, taxi stand and lifeguards.
Blackbeard's Castle - Located in Charlotte Amalie at the highest point, Government Hill, lies Blackbeard's castle. Built-in 1679 this amazing site is now one of five National Historic Landmarks in the U.S Virgin Islands and offers a walking tour rich in history and beauty.
Coral World Ocean Park - This five-acre diverse ocean park located at Coki Point on St Thomas has been a top tourist attraction for over ten years.
Coral World Ocean Park has sea life attractions and activities to make this an enjoyable and educative day for everyone. They have exotic aquariums, outdoor marine pools, nature trails and a semi-submarine to experience the true beauty of the Caribbean underworld. For the more adventurous try one of their thrilling encounters with Sharks, Sea Lions, Turtles, Snuba or Sea Trek.
Lindquist Beach - Located at Smith Bay Park, this is one of the most beautiful pristine beaches on St Thomas. With sparkling turquoise waters, soft white sand and amazing views of St. John and the British Virgin Islands. If you're wanting to get away from the crowds to enjoy a relaxing atmosphere, fantastic view, and gorgeous beach, then Lindquist Beach is just the place for you. It is also great for families, for there is plenty of shady areas that is a godsend if you have young kids. Don't forget to pack some drinks and snacks for the day for there isn't any shops or restaurants available. They do however have picnic tables, lifeguard, and bathroom facilities available.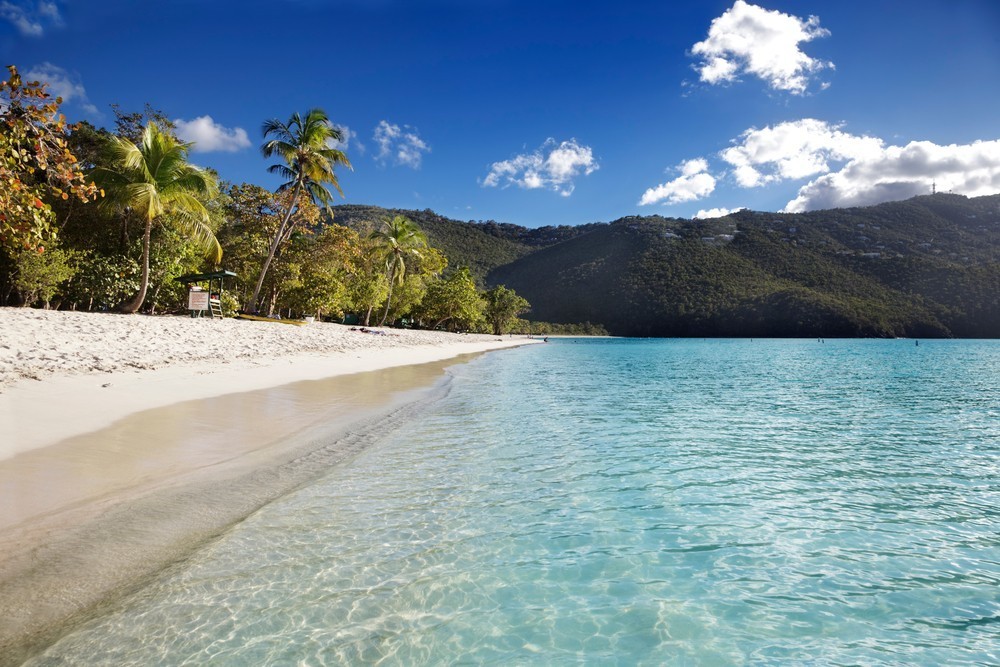 BEST THINGS TO DO IN ST. THOMAS
Skyride to Paradise Point - Located 700ft. above the town of Charlotte Amalie is Skyride to Paradise Point. If you want the best view of St Thomas and the surrounding islands then visit Skyride to Paradise Point. This is a "must do "attraction in the Caribbean and was voted Best View 2009 & 2010. They are open daily, have a restaurant, observation deck to sit back, relax and enjoy this breathtaking view.
Virgin Islands Eco-Tours - Located on South East side of St Thomas across from the beautiful Mangrove Lagoon is Virgin Island Eco-Tours. They have several adventures to choose from, like their famous Kayak, Hike & Snorkel tours, or Stand Up Paddleboard in the Lagoon, the Bird Island at Sunset and the scary Night Kayak with Pirate & Ghost Stories. Voted the best Eco-Tourism and Kayak Tours adventure company on St Thomas you can expect to have an unforgettable experience that is fun for the whole family.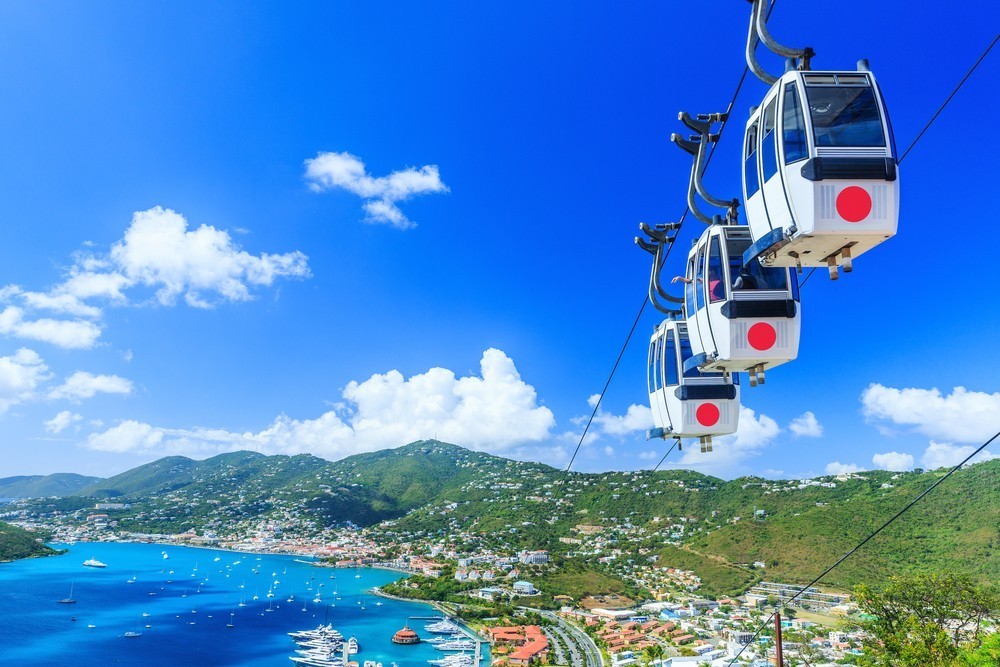 Tree Limin Extreme - Home of the Virgin Islands First Zip Line is Tree Limin Extreme, one of the ultimate Caribbean experiences. Tree Limin Extreme is located on St Thomas in the United States Virgin Islands. Here you can have an adventure of a lifetime flying over 6 ziplines, two sky bridges, acres of the wild jungle while witnessing the most incredible views. Tree Limin Extreme pride themselves on upholding the highest regard for safety which is why all their guides have had extensive training including CPR & First Aid. Please note reservations are required.
Kayak in the Dark - This unique experience is one of the only nocturnal adventures out there. Located at Frenchman's Reef & Frenchman's Cove Resort on St Thomas is Kayak in the Dark. Their kayaks have been customized with clear bottoms and LED lights giving you a window into the sea. Suitable for all ages and running tours seven nights a week, come explore the ocean after the sun goes down. Now also running SUP night tours too.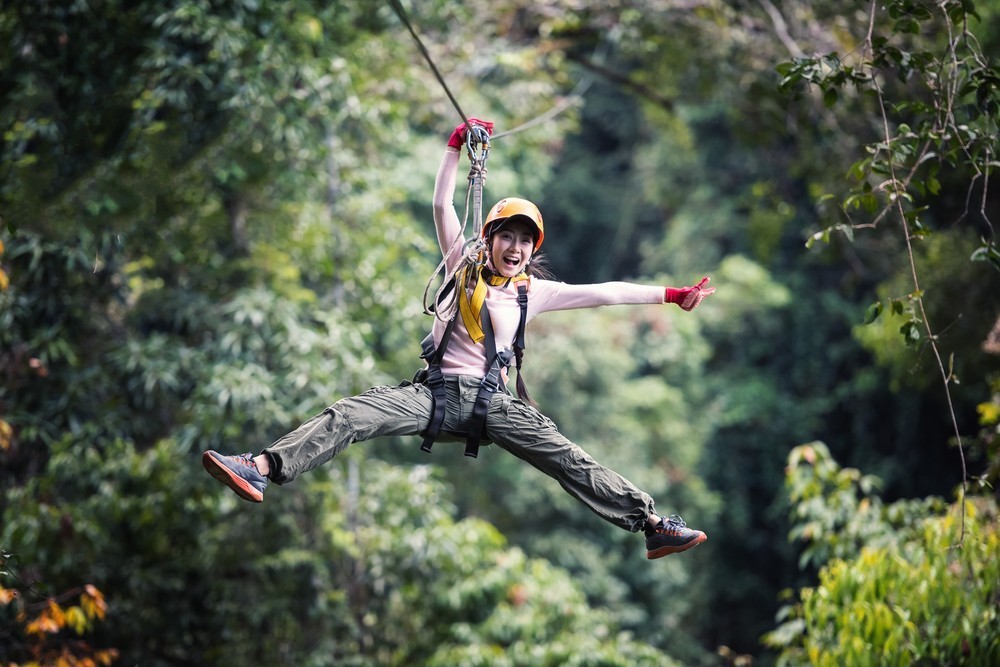 Mahogany Run Golf Course - For Caribbean Golf at its finest head to Mahogany Run Golf Course, located on the northern clifftops of St Thomas. This 18 hole course is situated along the breathtaking shoreline of St Thomas. Mahogany Run Golf Course is a public course that is open seven days a week and caters for golfers at every level. This Par 70 is wonderfully challenging especially the famous Devil's Triangle, situated 200ft above the ocean on a rocky cliff.
Forgot your clubs, don't worry you can rent everything you may need such as; Taylor Made Speedblade clubs, golf shoes, towels and name brand balls.
Also onsite is The Grille at Mahogany Run Restaurant, Coconuts Snack Shack and "Golf World Top 100" Golf Shop and Boutique.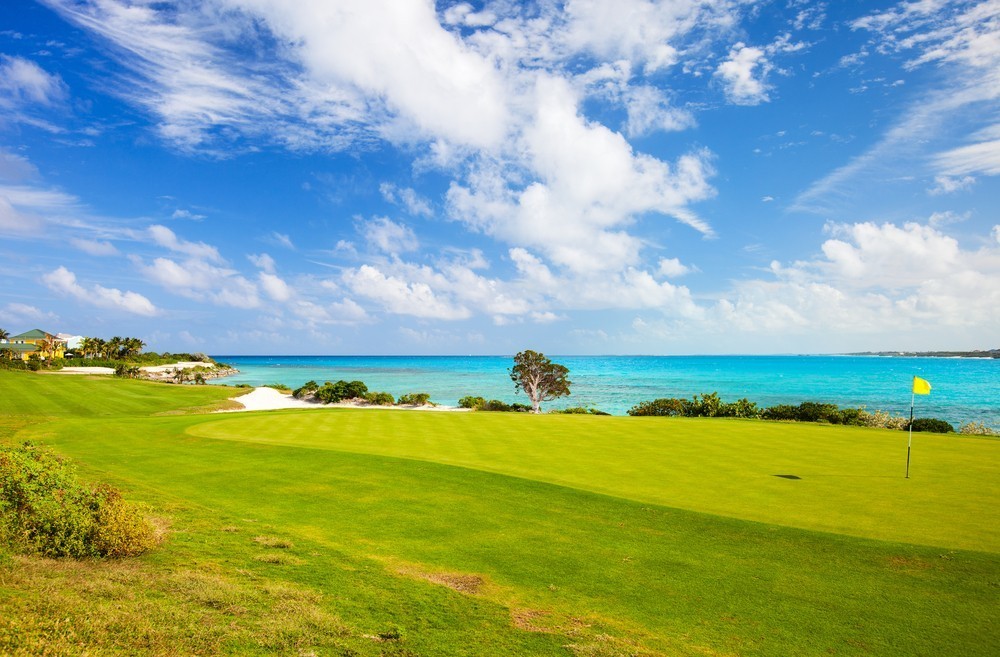 Mountain Top - Situated on the highest point of St. Thomas atop St. Peter Mountain is The World-Famous Mountain Top.
Best known for its famous and amazingly delicious banana daiquiri made with the Virgin Islands very own "Cruzan Rum". It is claimed that the Banana Daiquiri was invented at this very bar 50 years ago by an English sea captain.
The views are incredible here and can be enjoyed on their large observation deck giving you a panoramic view of Magen's Bay, St. John and the British Virgin Islands.
They also have the Caribbean's largest duty-free gift shop and while shopping you can taste some of the many different types of rum available for purchase.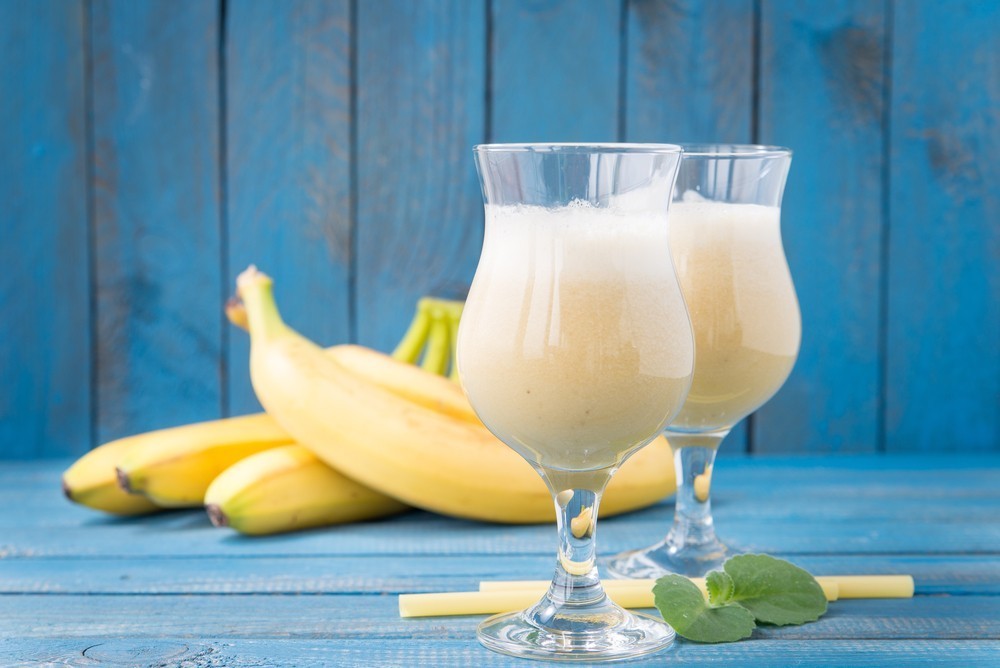 BEST PLACES TO EAT & DRINK ON ST. THOMAS
Daylight Bakery & Diamond Barrel - A great little locals spot to start your day with some tasty Caribbean island treats and friendly atmosphere. The Daylight Bakery & Diamond Barrel is located on the edge of downtown and has an assortment of delicious homemade baked goods from their guava tarts, sugar cakes or the coconut sweetened dum bread to fried corned beef, sausages and salt fish. Open daily from 6:00 am to 6 pm.
Glady's Café - Located down a small alley in the historic buildings at Royal Dane Mall on St Thomas, US Virgin Islands is the always friendly Glady's Café. A great place for breakfast or lunch serving a mix of the traditional Caribbean and American dishes all with that unique Glady's twist. Don't forget to grab a bottle of her special hot sauce on your way out, a great gift or just savor it yourself. Open daily from 7:00am to 5:00pm.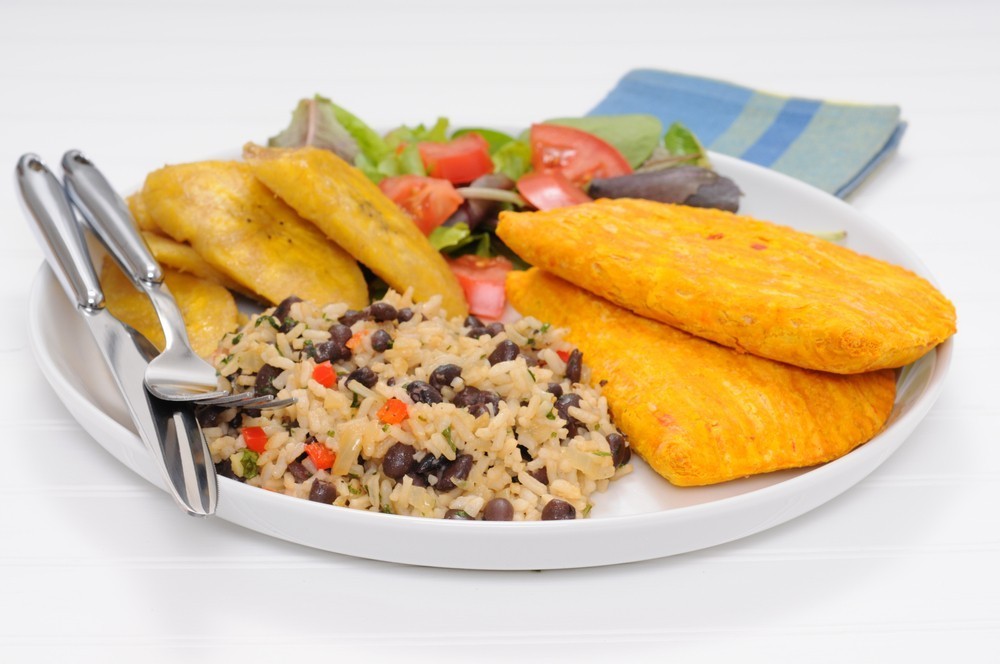 Amalia Café - Located in the heart of Charlotte Amalia, on the cobblestone Palm Passage in St Thomas is the delightful Spanish Restaurant Amalia Café. Serving a selection of delicious Spanish favorites, tapas and daily specials, and don't forget the best Sangria on the island!
It is the perfect place for lunch or dinner with a friendly relaxing setting, voted the number one restaurant in St Thomas on Tripadvisor.
Banana Tree Grille - Located next to the Bluebeard's Castle in Charlotte Amalia is the lovely Banana Tree Grille. This sophisticated restaurant has an international menu offering guests stunning views of the harbour below, especially at sunset.
The elegant setting, fantastic food and live entertainment on Fridays and Sundays making this fine dining restaurant a great evening out. Try their signature dish, the grass-fed filet mignon topped with shrimp and served with creamy béarnaise sauce to get your taste buds going.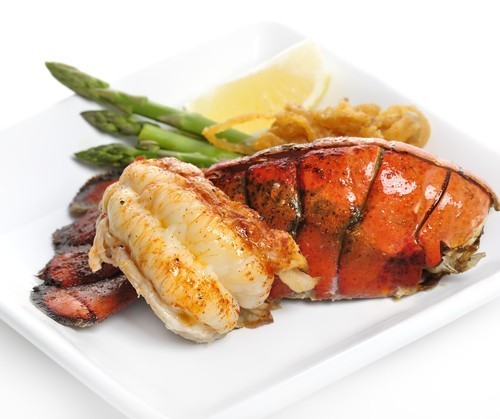 The Tap & Still Redhook - For a fun American style pub with delicious burgers and cheap drinks The Tap & Still Redhook is the place to be. Located at the American Yacht Harbour in Redhook on St.Thomas, open daily from 11am and happy hour from 4pm.
The Pie Whole -
If you love brick oven pizza, good beer all in a relaxed atmosphere then head to the Pie Whole located in Frenchtown. This Italian Restaurant focuses on the simplicity of good Italian food using the freshest ingredients.
For the beer lovers out there, they now stock around 60 different varieties of Ales and other imports including Belgian beers. Open daily from 11am-3pm and 5pm-11pm.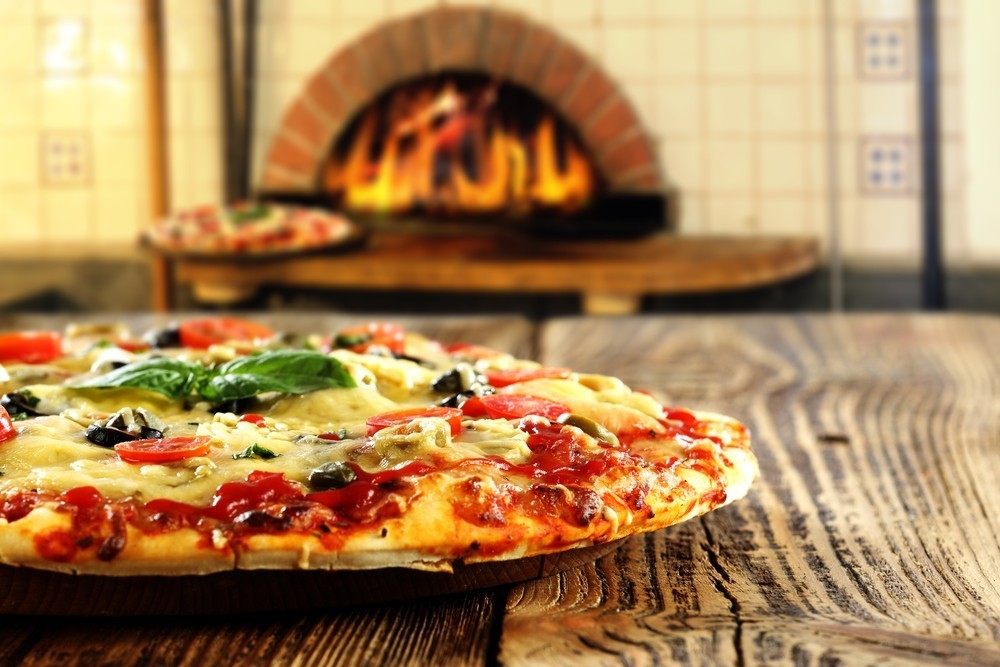 St Thomas has a vast array of good bars and restaurants to choose from. You can enjoy the night while dancing, bar hopping, maybe some Karaoke, but most importantly their huge selection of delicious rum concoctions! Most bars and clubs play a mixture of the Caribbean and American music and feature live bands and DJ's. You can also see some great live acts performing at the Reichhold Center, Pistarckle Theatre and Tillett Gardens. Happy hour is very popular and can be enjoyed daily at most bars and restaurants on the island. The best areas to go out in St Thomas are Havensight, Red Hook, Frenchtown and Charlotte Amalie.
Havensight is located along the harbour only 2 kilometers from Charlotte Amalie. With many good bars and restaurants, you can find all types of music, live bands and watch live sports shown on big screens. Try the Fat Turtle, The Rock, Shipwreck or Starz nightclub to dance the night away.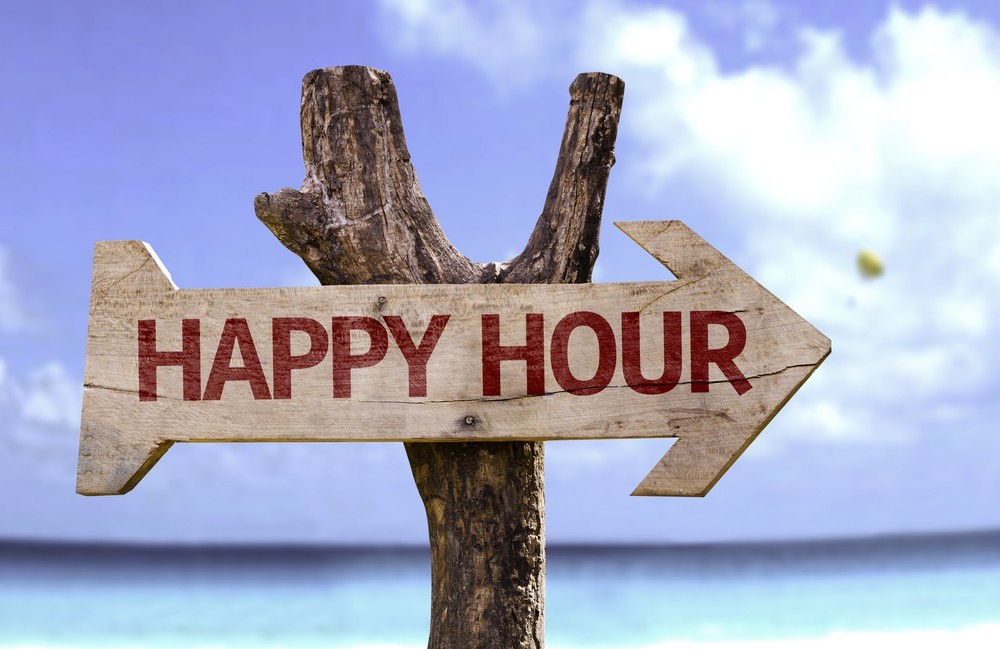 Red Hook is the place to be if you want to party, with several bars and restaurants within walking distance of each other making it a perfect spot to go bar hopping. Duffy's Love Shack is one not to be missed known for their award-winning hand-crafted cocktails, good food and party atmosphere. Be sure to stop by for happy hour!
Frenchtown is another good place to go out with some great restaurants and small bars. Try Betsey's, known as the friendliest bar in Frenchtown or head to Iggies Beach Bar known as the best beach bar on the island! Charlotte Amalie is the heart of the city and has some great restaurants to dine at like the Epernay Bistro & Wine Bar or Greenhouse Bar & Restaurant, however, it is not so safe after dark due to high muggings in the area. It is recommended to stick to the big resort bars and restaurants.