Virgin Gorda
Virgin Gorda is a gorgeous Caribbean gem where the super-rich come to experience unfazed local friendliness and tropical waters. Pristine natural beauty abounds both above and below the water. Steep hills adorn the northwest half of the island towards 'Bitter End Yacht Club', boasting breathtaking views of the BVI and open Atlantic ocean. On the southwestern tip of Gorda, the famous 'baths' can be found; thousands of huge smooth boulders peppering the beach, creating unique natural seawater pools and a mazelike network of tunnels and crevices. Most tourists will arrive at Spanish Town, the main settlement on the island. A few convenience stores, watersports companies and places to eat cluster around the yacht marina there. Car rental and various day tours can be booked from Spanish Town, or even prior to that when you book your ferry to the island with us. Around the turquoise waters of Virgin Gorda are some of the most pristine spots for snorkelling and diving in the BVI.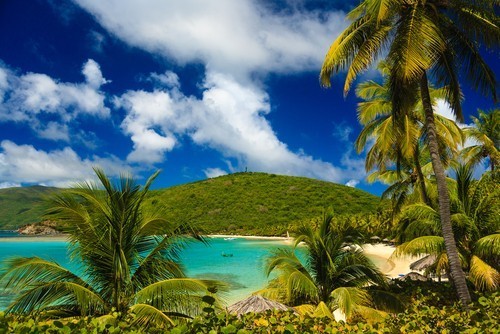 In the North Sound near Bitter End, a watersports and yachting mecca awaits. Kitesurfing is the mainstay here, as strong gusts with sizeable waves plough in steadily from the Atlantic.The east coast is rugged and unsuitable for leisure purposes, other than enjoying the stunning views of wave after wave pounding in under the tropical sun from the high vantage point offered at Gorda Peak National Park. There are some fantastic places to eat on Virgin Gorda, from down to earth local lunchrooms serving authentic Caribbean grub to top end sushi restaurants that draw the classy crowds. Spanish Town has the main concentration of eateries. Some of the bigger restaurants play host to seasonal events, such as Leverick bay with its traditional stilt walking shows and all you can eat buffet, every Friday during the summer months. Don't miss out on the ubiquitous street food stalls for a real taste of local proffer.
HOW TO GET TO VIRGIN GORDA
The best way to reach Virgin Gorda is to fly to Tortola BVI (Beef Island Airport) and take a connecting ferry from Beef Island or Road Town as there are several ferry companies offering daily departures to Virgin Gorda.
Speedy's Ferry's
have daily departures leaving several times a day from Road Town and a few different times from Beef Island.
Click here
to see the schedule.
Tortola Fast Ferry
also offers daily departures from Road Town to Virgin Gorda and return, to see their schedule
click here
.
The next best option is to fly into St. Thomas USVI (
Cyril E. King Airport
) and take a ferry across. There are two ferry terminals on St. Thomas, Charlotte Amalie and Red Hook.
Inter Island Boat Service
has daily departures from Red Hook St. Thomas to Road Town Tortola, to see their schedule
click here
. Road Town Fast Ferry also has departures from Charlotte Amalie to Road Town Tortola.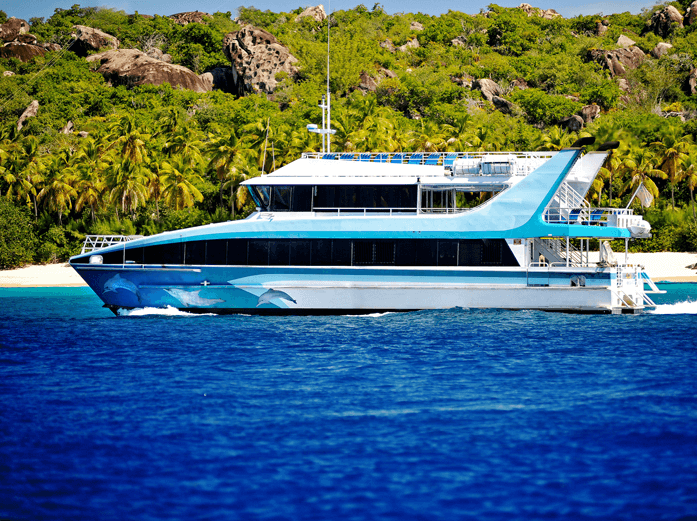 Alternatively, you can fly directly to Virgin Gorda Airport (Airport Code: TUPW) from either San Juan, Puerto Rico (Airport Code: SJU), St. Thomas USVI or Beef Island Airport on Tortola. Although the most direct route, it will be more expensive with limited time slots available on a very small plane.
Please Note: When entering the British Virgin Islands and the US Virgin Islands you will need to have a valid passport with you, as all vessels are stopped immediately upon arrival by customs.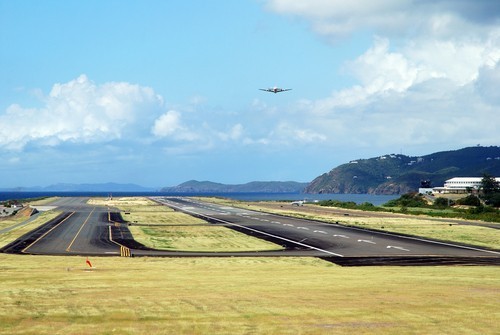 BEST PLACES TO VISIT ON VIRGIN GORDA

The Baths National Park - Certainly one of the most spectacular natural features of the Virgin Islands, this is a must-see for anyone considering a trip to the US/BVI. Tens of thousands of polished boulders ranging in size from the size of a football to a multi-storey building cascade down a mild slope from the Island into the turquoise sea. These unique geological formations are relics of the Virgin Islands' distant volcanic past when huge amounts of granite were deposited, following which they were eroded into their smooth rounded shapes in the aeons that followed.

Declared a national park in 1990, the Baths cover a surprisingly large area and can easily take up a day's worth of exploring in the secret coves and pools near the water's edge. Day trips can be booked from Tortola and the USVI using the search box on our homepage.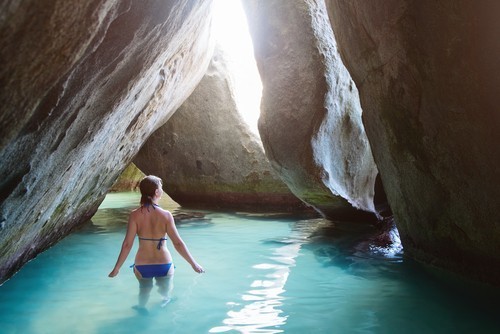 Bitter End Yacht Club - (Hopes to re-open their marina by the end of 2019. Everything else is closed untill further notice)
This exclusive spot is not only a top end resort worthy of consideration for a potential accommodation splurge, but it also plays host to a range of fabulous watersport activities, the biggest Spa of the BVI and a classy restaurant. With some of the world's most successful entrepreneurs living on private islands just a stone's throw away, don't be surprised if you rub shoulders with the rich and famous. Bitter End Yacht Club (BEYC) cannot be reached by land, so either pull up to the quay in your glamorous yacht or hop across from Leverick Bay with the locals on one of the frequent public ferries. The view across the North Sound from the colonial style restaurant pavilion is gorgeous, especially at sunset. You won't find scores of tourists here, just sit back and relax in the friendly but upmarket atmosphere and feel like a millionaire.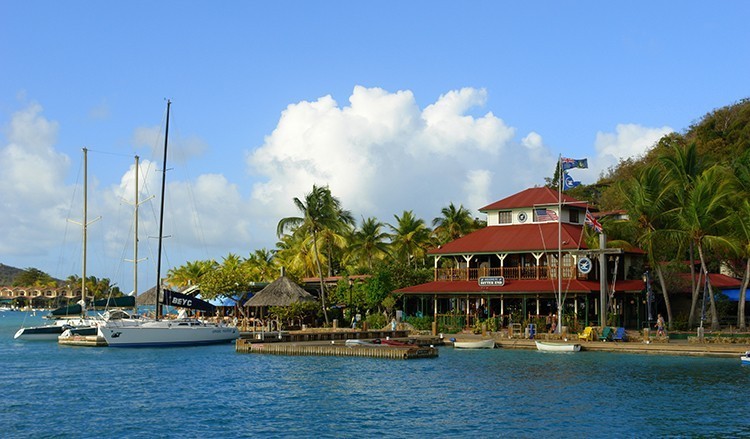 BEST THINGS TO DO ON VIRGIN GORDA

Kite Surfing - One of the best and most beautiful spots in the world to kitesurf is located just off Virgin Gorda, in the eastern mouth of the North Sound between the Bitter End and Necker Island. There is a consistent prevailing wind blowing in from the open ocean, with sizeable waves giving you ample opportunity to try out multiple tricks and providing bucketloads of airtime. For first-timers, head to the Bitter End Yacht Club where you'll find plenty of experts who'll provide professional classes and equipment rental.

While out on the water don't be surprised if you spot a few famous faces enjoying this sport too, or even attempting new world records from their private island homes. Kitesurfing is quite an extreme sport and does not come without risks. Make sure you know what you're doing before taking to the waves!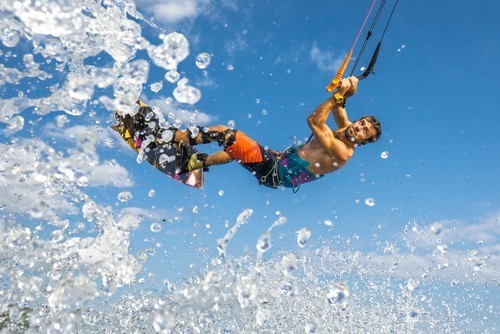 Get Wet! - Diving and Snorkelling, or simply swimming right of the pristine beaches are the ultimate attraction of nearly every Caribbean island, but Gorda ranks among the very best. Due to its more remote location as an outlying Island, Virgin Gorda is much less busy than the more westerly Virgin Islands. This means perfect white sands and crystal clear waters teeming with life and relatively few other visitors.
The Best snorkeling spots are located on the west side of the island, close to shore at Little Dix Bay and Mahoe Bay. You are almost guaranteed a turtle sighting here. The water is warm, clear and calm and vibrant soft coral and marine life abounds.
The Dive sites around the island are all good quality and not particularly challenging. This makes Virgin Gorda (along with the rest of the BVI) a great place to learn to dive.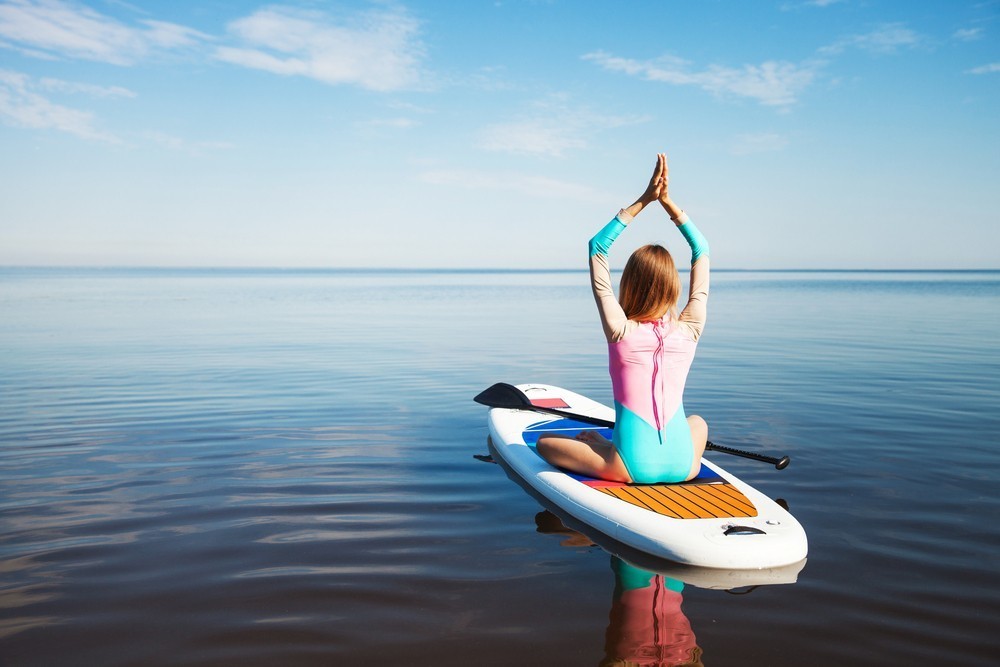 The depth is relatively shallow (up to about 25m/40ft) and there are quite a number of interesting wrecks to explore, most famous of which is the RMS Rhone.
Explore - From Virgin Gorda, you can do a variety of day cruises through the British Virgin Islands that range from renting a private yacht to taking a public sunset cruise. All options are viable if you'd like to visit the beautiful beaches and snorkel spots that Virgin Gorda has to offer, like the Baths, Devil's Bay National Park, Spring Bay and Savannah Bay.
After you have taken a trip to the Baths or if you are just looking for a great adventure it is recommended to take a ride, or rather challenging 50-minute hike, to Virgin Gorda Peak to take in a great view over Virgin Gorda from above.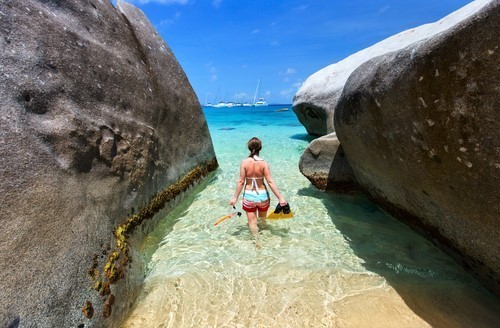 BEST PLACES TO EAT & DRINK ON VIRGIN GORDA

Coco Maya - World-class cuisine including Tapas and Sushi at Gorda's most fashionable restaurant & bar. Located close to the Baths, Coco Maya lights up every night with the local and vacationing elite, though all are welcome. The winner of the TripAdvisor 2014 certificate of excellence, the stylish beachside location is a great place to party deep into the night. Boasting special imported European beers such as Belgian Duvel, a fantastic and varied wine list as well as a delicious range of fresh cocktails, the bar is the perfect start and finish to your Gordian evening.
For your meal, select from a broad menu including prime steaks, freshly caught seafood, tapas or sushi. Get 10% off meals and drinks at Coco Maya when you book a ferry with Virginbookings.com! Just select the free voucher during the booking process.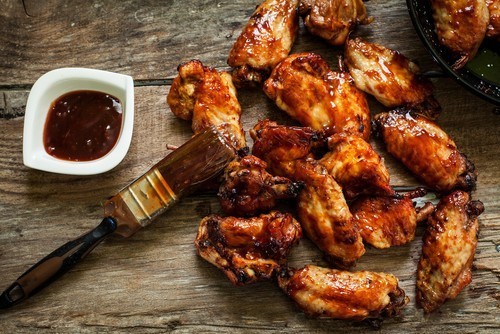 Hog Heaven – With a spectacular view from Gorda Peak on Virgin Gorda, Hog Heaven is one of best affordable restaurants on the island. With friendly staff, a great environment and delicious chicken and pork barbecues this is one of the best places to eat delicious Caribbean food. All the food is homemade and the best view is of course around sunset. Make sure to book well in advance or go in time to ensure you have a spot at this excellent restaurant and avoid long waits.
Top of the Baths – Visit this outdoor bar scene to meet the lovely bartender and enjoy a consistent standard of excellent service, ambience and delicious food. With a pool in the middle, this place is great for cooling off after a hike up or to just enjoy the stunning view over Virgin Gorda They offer a vast variety of cocktails and a quite extensive menu ranging from the Caribbean to sushi.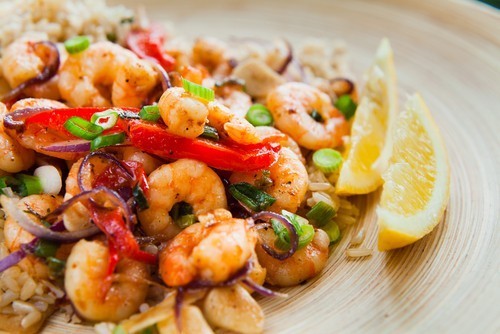 Saba Rock – The only way to get to Saba Rock is by boat which is certainly worth the effort. They put on a show every day at happy hour which is around 5 PM and they feed the tarpon with an occasional barracuda swimming through. It is a wonderful place to go with kids too since the food is well portioned, delicious and the views are absolutely worth visiting for.
Dixies Kitchen - Located opposite the gas station on the corner of the main road through Spanish Town, this little diner combines American classics like mac'n'cheese and hamburgers with authentic Caribbean dishes for an easy eat at an affordable price.
Get out of the heat into the air-conditioned seating area and sip on a chilled Jamaican Ginger Beer. Dixie's buttered sweetcorn on the cob is absolutely killer!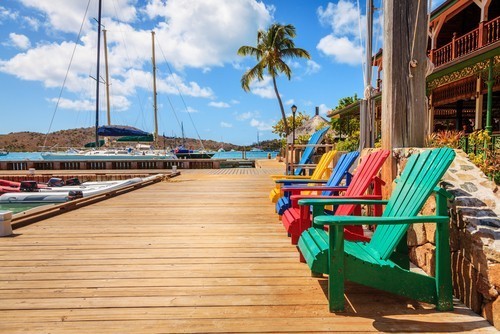 Island Pot - A great little lunchroom and bar popular with indigenous locals and expats, serving great value full flavored traditional West Indian food. Located close to the yacht harbour in Spanish Town.
Both bang for your buck and bang for your belly, if you think you can handle it try some of the hot sauces and spicier dishes. Peas & Rice, grilled chicken and fish are the staples. Island Pot is the Crandall's of Virgin Gorda, well worth visiting repeatedly during your stay!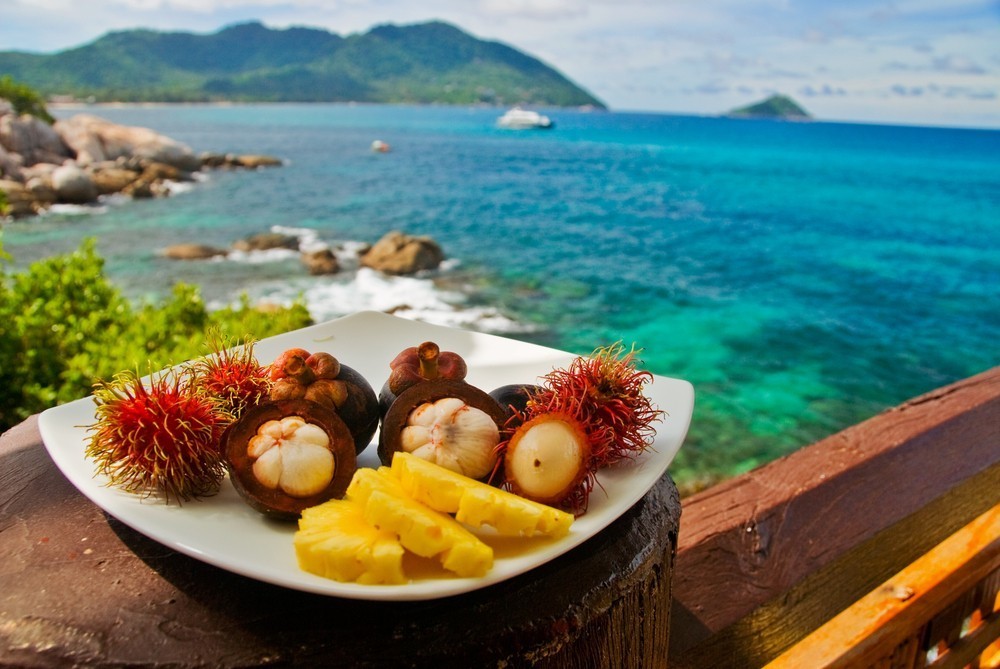 Jumbies Beach Bar - Located at the Restaurant at Leverick Bay, Jumbies is at the heart of the action at North Sound.
During the season the whole area lights up every Friday for traditional stilt-walking (Moko Jumbies), live entertainment and all you can eat BBQ buffets on the beach. A vibrant spectacle with a real Caribbean carnival atmosphere.
Coco Maya - Not just a fantastic place to eat, but also a classy beachside bar to party at, deep into the star-studded night. With a great selection of imported beers and wines, as well as local cocktails prepared to perfection, the comfy lounge on the pristine sand may come in handy later into the evening.