Charlotte Amalie
Charlotte Amalie is the capital of St. Thomas and the largest city within the United States Virgin Islands. It is located on the Southern shore of Saint Thomas and stretches around Saint Thomas Harbor to Frenchtown with Fort Christian and the vendor's market at the center of Old Town. The Airport on St. Thomas is called the Cyril E. King Airport and is located close to Charlotte Amalie (only 3km's away).
It offers a deep water harbor which was once used by pirates but is now known as one of the busiest cruise ship ports in the Caribbean. It has around 1.5 million cruise ship passengers landing here annually and hundreds of yachts and ferries pas by each week. The average temperature in Charlotte Amalie is between 24-32 degrees and it has a short dry season from January till March.
Please find more info about
St. Thomas
on our page dedicated to this island.

The city has been named after a Danish Queen and throughout town you will find Danish architecture, name signs and history. Due to the long history with pirates the Danes have built Blackbeard's Castle and Bluebeard's Castle which are definitely worth a visit as well as Fort Christian which is the oldest standing structure in the Virgin Islands.
In 1764 Charlotte Amalie was declared a free port and the town became the busiest harbor in the Caribbean. Another historical tourist attraction is the Emancipation park which has a copy of the Liberty Bell and a freed slave blowing a conch shell. The most popular religion is Christian, however there are also some Jewish, Hindu and Muslim populations around.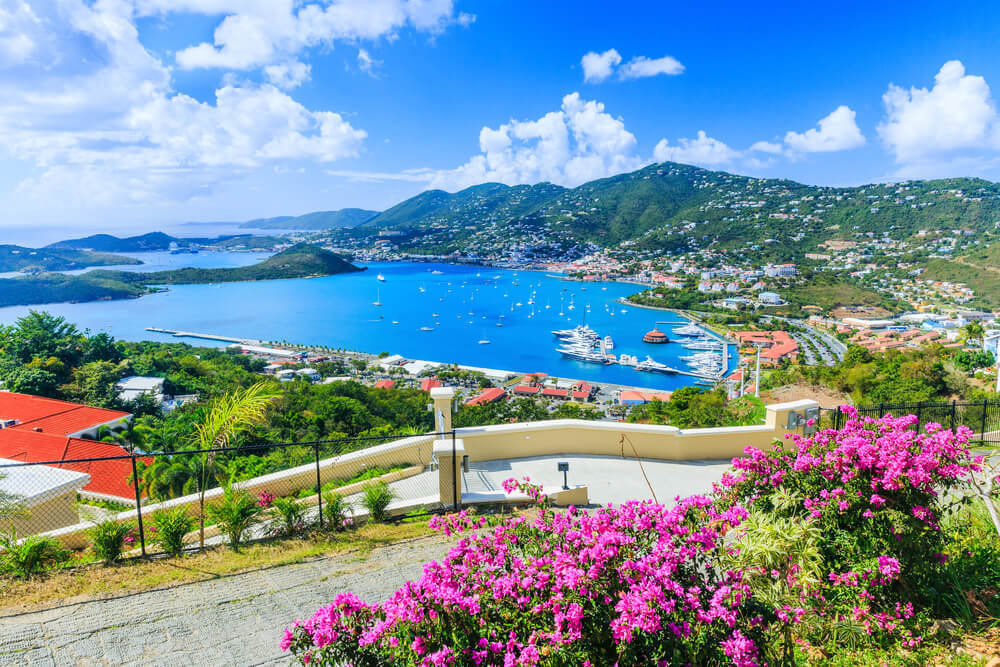 How to get to Charlotte Amalie
Travelers can easily access Charlotte Amalie either by air or by sea. From the international airport on Charlotte Amalie named Cyril E. King Airport, travelers can book direct or connecting flights to the US mainland or Puerto Rico. The local flights can be made between St.Thomas and neighboring Caribbean Islands.
Travelers can book their boat ticket from St. Thomas to Tortola, Virgin Gorda or Anegada. Tortola Fast Ferry runs regular ferry services between the US and the British Virgin Islands. Red Hook and Charlotte Amalie are the main connecting harbors between the British Virgin Islands and the US Virgin Islands. From St. Thomas, Island travelers can book their tickets with Inter-Island ferries to the neighboring islands.
You can simply book your ferry tickets between Charlotte Amalie on St. Thomas, St. John, Tortola, Anegada and Virgin Gorda by using the search box on our website.