Boats

»

Native Son Adventurer
Ferry to St Croix
Native Son is one of the leading ferry services in the Virgin Islands, providing nearly 40 years of reliable service to the region.
Their new 3 times weekly transfer from St. Thomas to St. Croix and back are perfect for day trippers and longer stay visitors alike. The crossing takes just 2hrs to get to Christiansted on the northern side of St. Croix. View the current schedule below or use the search box to discover prices and availability, and book your ticket.
The crossing time between Charlotte Amalie to Christiansted St Croix is approximately 2hrs. The high speed vessels of Native Son each have an air conditioned cabin and outside sun deck where you can enjoy amazing views of the US virgin islands on your way to beautiful St Croix.
St Thomas to St Croix Day Trip
The schedule from St Thomas to St Croix has been specifically designed to make day trips and short weekend or midweek breaks an easy possibility. If you take the Friday morning 8.00 AM service from Charlotte Amalie to Christiansted, you'll arrive in St Croix around 10.00 AM. The boat departs back from St Croix to St Thomas again at 4.00 PM, giving you around 6 hours to enjoy the island.
Weekend on St Croix
If you have a little more time to spare, we highly reccommend spending the weekend on St Croix. Take the Friday crossing over, and go back from St Croix to St Thomas on the Sunday afternoon. That way, you can really explore the island's diversity and tick off a few of the best things to do on St Croix. Or simply take the time just to relax and unwind on one of the best hotels on St Croix, near the beach, sipping your favourite cool beverage!
Alternatively, with the newly added Wednesday service, you can opt for a half-week trip or longer.
St Croix Ferry Schedule
| From: | To: | Departure days: | Departure time: | Approx. Arrival Time: |
| --- | --- | --- | --- | --- |
| St. Thomas (Charlotte Amalie) | St. Croix (Chritiansted) | Fridays, Wednesdays & Sundays | 8:00 AM | 9:30 AM |
| St. Croix (Chritiansted) | St. Thomas (Charlotte Amalie) | Fridays, Wednesdays & Sundays | 4.00 PM | 5.30 PM |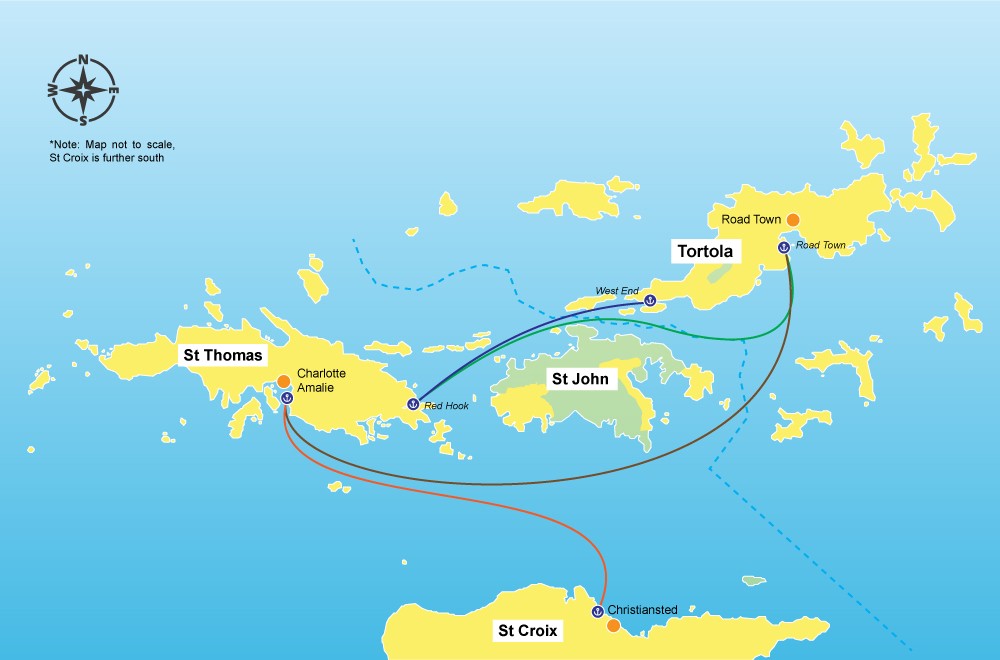 Baggage Policy
One (1) carry-on bag: No charge. Checked bags: $5 for each bag.

All luggage/baggage must be checked in at the counter.
Baggage Classifications:
Carry On - One bag, up to 30lbs allowed that fits into 22 x 14 x 9 in (56 x 36 x 23 cm) sizing unit (regular roller bag)
Checked Baggage - Any bag up to 50lbs. Baggage in excess of 50lbs and oversized baggage may be subject to additional charges.
Terms & Conditions
Important: Schedules are subject to change due to sea conditions or otherwise without much prior notice, so please remember to check ahead for any schedule change notifications. In case of last minute changes or cancellations by the operator, you will be provided the next available alternative crossing, or your money back.
Cancellation policy
The full ticket price will be charged for any cancellation less than 48 hours prior to boat departure.
Within 2 weeks, but outside 48hrs, you will receive a 50% refund minus any charges applied to make the refund

(see the general

Terms and Conditions

for cancellation charges)

.
Outside 2 Weeks prior to departure, you will receive a full refund minus any charges applied to make the refund

(see general

Terms and Conditions

)

.
Refunds will be provided in case of last minute cancellations of a departure due to mechanical failure.
Native Son Ferry Fleet:
SPECIFICATIONS
Craft Name:
Adventurer
Lady Virginia
Native Son Express
Construction:
Aluminum
Aluminum
Aluminium
Type:
Ferry
Ferry
Ferry
Full Load Capacity:
28 Short ton
Passengers:
267
307
149
Net Tonnage:
66
67
67
Overall Length:
100 Feet
100 Feet
94.8 Feet
Overall Breadth:
21.5 Feet
25 Feet
21.5 Feet
Height:
29 Feet
30 Feet
25 Feet
Horsepower rating:
2025
1200
1800