Diving Tortola
Tortola is a tiny island located in the Caribbean Sea only 60 miles away from Puerto Rico. Diving and snorkeling near Tortola are excellent. The reefs are healthy, filled with marine life and divers can easily access it from Tortola. The sea world around the Tortola Island features nurse sharks, slipper lobsters, turtles, angelfishes, tropical small fishes, vibrant colors and many more. With several dive operators on the island, our selected diving partners are Caribbean Divers and Blue Water Divers. Both diving centers offer various certificated PADI courses and many great selected diving sites, including the Shark Point, Alice in Wonderland, the Chimney or the Spyglass Wall near the Norman Island.
Sail Carribean Divers was founded in 1999 by two PADI instructors with a passion for teaching and sharing their love and knowledge for diving. They offer a wide range of recreational and educational diving activities. Their dive boats are custom built with first-class facilities and only carry high-quality rental equipment.
Diving Courses
Sail Carribean Divers is a PADI 5 Star Instructor Development Center and Resort Facility. PADI scuba diving certification courses are offered at all levels. The available courses are as following: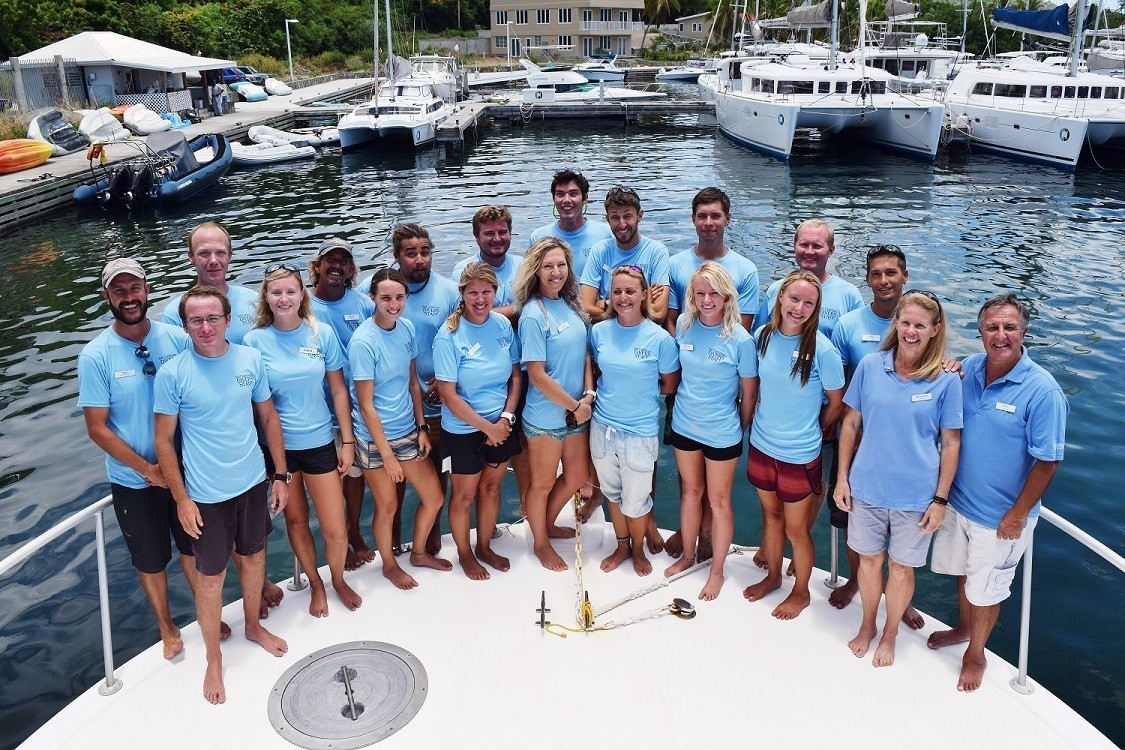 Scuba Diving for kids
Introductory Dive Training
Continuing Education – Adventure Diver, Advanced Open Water Diver & Speciality Diver
Continuing Education – Divemaster, Assistant Instructor & Open Water Scuba Instructor
Dive Professional Training – Emergency First Response Instructor, Master Scuba Diver Trainer & IDC Staff Instructor
Padi Referral - Scuba Diver or Open Water Diver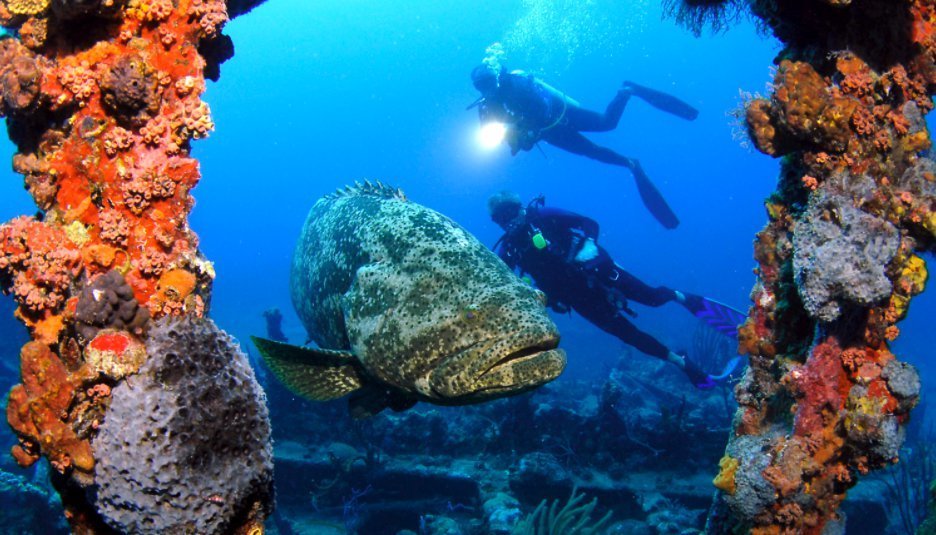 Diving Sites
Shipwrecks, secluded coves, treasure caves, beaches, wooded slopes and uninhabited islands make diving around the stunning Virgin Islands worth your while.
There is always a new dive site to explore with guides ready to take you on an adventure and show you the best dive sites the Virgin Islands have to offer. You can find maps and available routes at all dive centers.
The most popular dive sites include: Spyglass Wall, The Indians, Angelfish Reef and Shark Point on Norman Island, Red Bluff Point, Ginger Steps, Alice's Wonderland and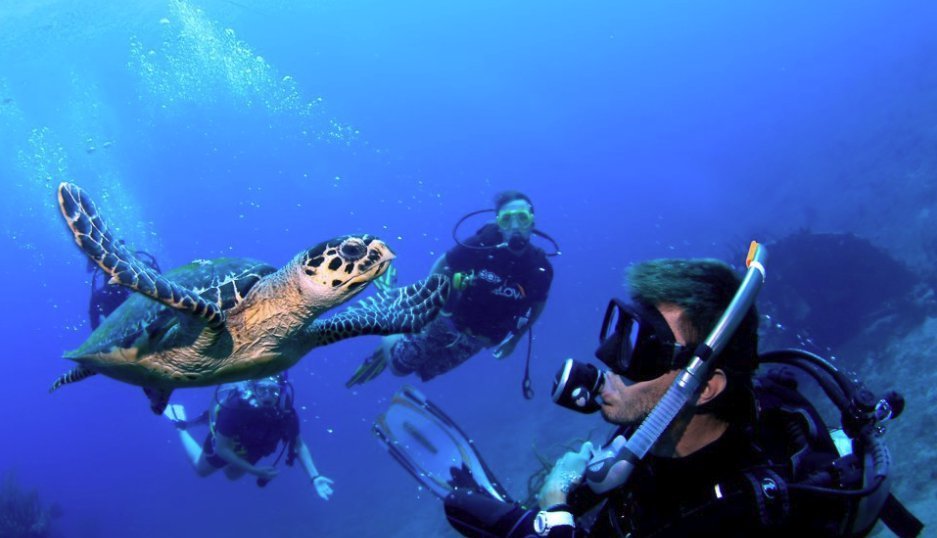 The RMS Rhone on Cooper Island, and The Chimney, Bronco Billy's, and Mountain Point on Tortola and Virgin Gorda.
Dive Boats
The Sail Carribean Divers fleet consists of four custom-built Newton Dive Boats. Each one of them has fresh water showers, easy to use ladders and platforms. Larger boats are also equipped with marine heads and a camera table.
All vessels meet the safety requirements and are equipped with life jackets, flares, fire extinguishers, life rings, life rafts, first aid and oxygen kits.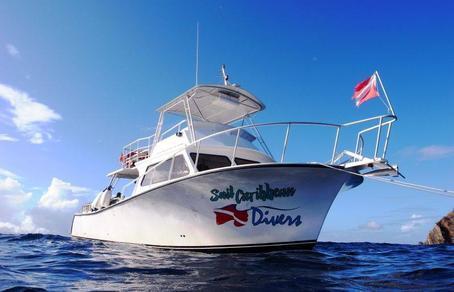 How To Get There
It's an easy ferry ride from St. Thomas to Tortola. You will arrive at either the West End or Road Town docks and can then arrange further transportation to your accommodation. There are several car rental agencies too but don't forget – you will need a valid license from your home territory. Sail Carribean Divers have four operating locations:
Hodge's Creek Marina on Tortola
Manchioneel Bay on Cooper Island
Mariner Inn & Marina on Tortola
The Bight on Norman Island
Blue Water Divers officially opened its doors for business in 1980. In 1986 the business had developed quite well so they custom built the first dive catamaran in the British Virgin Islands named Cat B'lue.
Today, Blue Water Divers has locations at Nanny Cay and Soper's Hole and operate four dive boats. The staff includes seven instructors and are certified as a PADI Training Facility and a PADI International Resort. Blue Water Divers are also an SSI and Universal Referral Center.
They offer the following PADI Certification and Resort Courses: Introductory Scuba Diving Lesson, PADI Open Water Scuba Certification, PADI Open Water Referral, PADI Rescue Diver and PADI Divemaster.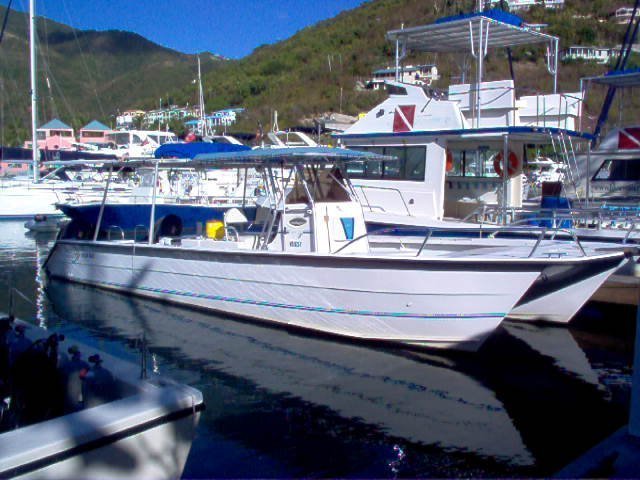 Scuba Diving Tours
Blue Water Divers scuba diving tours are available from Nanny Cay and Soper's hole on Tortola or selected rendezvous points throughout the Virgin Islands. Tours include a boat, a guide and refreshments. Note: An additional fee of $3 for the National Park is required.
Dive sites chosen are determined by the experiences on board and the sea conditions. You will see the natural beauty of the Virgin Islands, spectacular coral reefs and a wide assortment of marine life. If you wish to choose your own dive site, you may contact Blue Water Divers for private charters. The following tours and packages are available: Single Tank Dive, Two Tank Dive, Night Dive and Discover Scuba Course.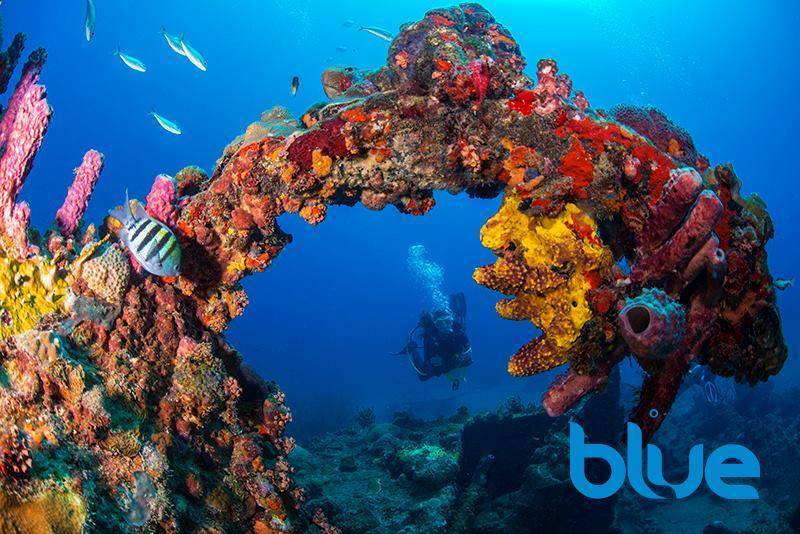 Hotel Packages
Nanny Cay Resort – Located at the heart of the British Virgin Islands, looking over the famous Sir Francis Drake Channel, Nanny Cay Resort has a 40 room hotel in a tropical oasis garden setting and has two restaurants, sail rentals, fishing, tennis, volleyball, and a freshwater pool by the sea.
Fort Recovery, Tortola Beach Resort – Located on the South-west side of the island, where the wind gives a constant breeze, which is especially nice in summer. Built around an original Dutch Fort, these villas offer a spectacular view of St. John, St. Thomas, Peter Island and Virgin Gorda.
Sugar Mill Hotel – Just steps away from the sea, Sugar Mill is the perfect place to enjoy the tropical gardens. The 22 rooms are set amongst the ruins of a 17th-century sugar plantation. The beach is protected by a natural reef, providing superb views for snorkelers.