How To Book & Frequently Asked Questions
Please note: For updates on the current situation (recovering from Hurricane Irma) please check out our News Page. Virginbookings.com makes it easy to book your travel and hotels in the Virgin Islands. With live availability and instantly confirmed bookings, just use the 'Search Box' to quickly check ferry departure times and prices. All bookings proceed to a secure online payment environment and once payment is completed you will immediately receive a booking confirmation with e-ticket(s) attached. The ferry operators will also send you an extra reconfirmation, usually within 24hrs.
How to book
To book a boat trip, simply select your point of departure and destination, enter your preferred date(s), number of passengers and click 'Search'. Results displaying all available trips for the dates entered will appear. Select the preferred times and click 'Book' to proceed with our simple booking process. To get Virgin Island discount vouchers, simply buy an activity or boat trip and in step 3 of the booking process, select the discounts for Virgin Island food, drinks and attractions in the Virgin Islands that you would like to receive (Coming Soon).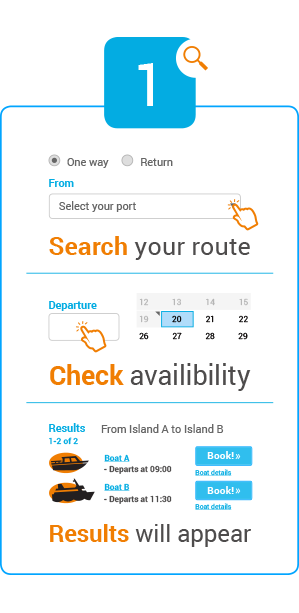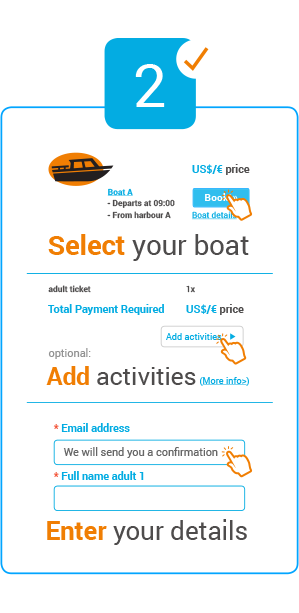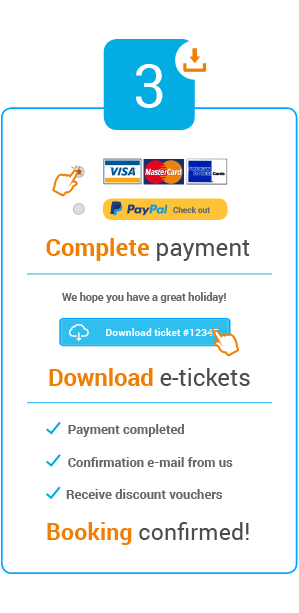 Frequently Asked Questions (FAQ)
How do I book a boat ticket to the Virgin Islands?
It´s easy, just fill in your dates, the number of passengers and route on our homepage. Then click ´Search´ and you will be able to see which boats are available, how much they cost and where they depart from. Then just click ´Book´ and follow the booking process. The process is quick and easy, and after payment, you will be able to download your e-tickets immediately. A confirmation email with a copy of your e-tickets will be sent to your inbox.
Where can I go from each island?
St. Thomas offers ferry's to and from the following islands: St. John, Jost van Dyke, Tortola, Virgin Gorda and Anegada.
St. John offers ferry's to and from the following islands: St. Thomas, Jost van Dyke, Tortola
St. Croix offers ferry's to and from the following islands: Coming soon
Tortola offers ferry's to and from the following islands: St. John, St. Thomas, St. Croix, Virgin Gorda, Jost van Dyke and Anegada.
Jost van Dyke offers ferries to and from the following islands: St. John (Cruz Bay) and Tortola (West End Harbour).
Anegada offers ferry's to and from the following islands: Virgin Gorda and Tortola
Virgin Gorda offers ferry's to and from the following islands Anegada, Tortola, St. John and St. Thomas.

How can I make a booking?
Bookings can be made online 24 hours a day. Simply fill in the information in the search box on our homepage and follow the steps shown in the image at the top of this page. If you are still unsure about your booking you can simply send us an e-mail by filling out the form on our contact page.
Do I receive e-tickets?
Yes, as soon as you have completed the booking process you can download your tickets through the browser. You will also receive an immediate email notification confirming the details of your booking from [email protected] and your e-tickets are in an attachment. If you do not receive this email within a few minutes please log in to your email provider and check your Spam/Junk folders. Please then mark our email as Safe/Not Junk.
Do I get charged a booking fee?
No, you pay for the tickets only. Full payment is required to secure the booking, this is also refundable, see cancellation information in our Terms and Conditions.
Is there a time limit on when I can make a reservation?
No, you have the option of booking a fast boat ticket up to a year in advance but we would not recommend leaving bookings to the last minute as availability becomes limited.
Why is there limited seat availability when I use the search box?
If you are booking last minute a lot of the boats, may already be fully booked. Our website shows the live availability and is controlled by local companies themselves. If you cannot find availability on our website then we suggest you send us an email inquiry and we'll do our best to accommodate your last minute requirements.
What happens to my ferry ticket if my flight is delayed?
If your flight is delayed please contact the ferry company immediately (contact details printed on your tickets). We ask the transport companies that we feature to be sympathetic to guests that are delayed through no fault of their own and as a result hope that you will not be charged. We cannot guarantee they will not charge you if within the cancellation period, however, if you are not satisfied with the way they deal with the situation please let us know by email.
Can I book hotels on Virginbookings.com?
You can browse our selection of handpicked accommodation at different budget ranges for the Virgin Islands on our Virgin Islands Hotel Page. Actual bookings are handled by our trusted global affiliates, Agoda.com and Booking.com. We feature all types of accommodation from large hotel chains to independent hotels, apartments and guesthouses.
Confirmation of my reservation

What happens when I make a fast boat reservation?
Once you have chosen the ferry, tour or activity you would like to book and ensured the details are correct you will be asked to provide a few personal details. After you have selected from the special offer vouchers you will be taken through to a secure payment screen where you can pay with a credit card or with your PayPal account. As soon as you have confirmed your booking, we will send you an email confirming all the details of your booking and contact details for the local staff. The ferry, tour or activity company will also receive an email with your reservation details.
Do I need to confirm my booking directly with the local provider?
No, you are not required to re-confirm your reservation with local staff. Once you make a reservation through our system, you and the local company will both receive an automatic email to confirm the booking.
How long does confirmation take?
Confirmation of your booking should be instant when booking online. E-tickets can be downloaded directly after payment. You will also receive an email confirming all your booking details. This email should be with you within 10 minutes of making a reservation.
What should I do if don't receive an email confirmation of my booking?
Check your junk mail. If it's not in there and you have not received an email confirmation please contact us at [email protected] giving us all the details so that we can investigate. Just provide us with either your name or the fast boat company name and dates of travel. We will then be able to re-send your booking confirmation and e-tickets to you.
Does the credit card holder have to be present at check-in?
No, you can pay with someone else's credit card. The Cardholder doesn't need to be a passenger.
Change or cancel a reservation

I made a booking, what do I do if I wish to cancel/amend my booking?
For cancellations and amendments to hotel bookings simply follow the link in the confirmation email you received when you made the booking. Make sure you check the hotels' cancellation policy. All changes to dates will be subject to availability.
For the boat, tour or activity bookings simply contact the company directly to make the necessary changes. The contact information is on the e-tickets you received when you made the booking. All changes to dates will be subject to availability. In the event of a cancellation please copy the email you send to fast boat company to [email protected] so we can process your refund.
What is the cancellation policy for hotels on the Virginbookings.com website?
As an affiliate of Agoda.com and Booking.com, the cancellation policy for hotels can be found on www.agoda.com and www.booking.com respectively. The details and conditions of the cancellation policy will be different for each booking depending on the hotel, period of stay, room type, etc. Booking conditions, including cancellation policies, can be viewed at any time during the hotel booking process. The cancellation policy/booking conditions link can be found in the middle of every page of the booking form. It will also be stated in the confirmation email sent to you. If you cancel your booking via their self-service option, the cancellation policy will be shown again upon cancellation.
Can I change the dates of my tickets?
Yes, when you make a booking you will receive immediate confirmation and e-tickets. On your e-tickets are a contact email address and phone number. Simply email your preferred dates and the changes will be made. (this is subject to availability).
Can I cancel my tickets?
In most cases, all bookings cancelled more than 2 weeks from the date of travel will receive a full refund. Cancellations less than 2 weeks but more than 48 hours from the date of travel will receive a 50% refund. Cancellations received less than 48 hours from the date of travel are usually not eligible for a refund. For info regarding possible exceptions and the specific cancellation policy of each of our featured boat, tour and activity companies, simply send your inquiry to the contact email provided on your e-tickets.
Why should I book a boat with Virginbookings.com?
We only work with the most reliable local companies with a proven track record and good reviews. Bookings are quick and easy. When you book with us you can select a variety of discount vouchers from local businesses that will save you $$$ and make our tickets cheaper than anyone else's. See our Discount Vouchers page for more details. Furthermore, we are recommended by The Lonely Planet and by Trip Advisor destination experts as the best place to book your boat tickets.
What are the methods of Payment?
You can pay by credit card, using a PayPal account, or for certain areas, local online bank transfers are available such as POLI (Australia/New Zealand) and Sofort/Giropay (Germany/Benelux).
What currency will I have to pay in?
The currency you pay the fast boat tickets in is US$.
How do you calculate exchange rates?
Due to the fluctuating nature of currency exchange, we are unable to quote a specific exchange rate. To find out the current exchange rate, we recommend that you check with your bank or a foreign exchange agent however these differ from day to day and the price your bookings are confirmed at is what you will pay at the hotel, however, Virginbookings.com has no control over changing of exchange rates, therefore, you may find the exchange rate changes from your booking date to arrival.
What cards are accepted to secure a hotel reservation?
Agoda.com only accepts credit card (Visa, Master Card, AMEX, JCB and Carte Bleue) and PayPal. You are required to fill in your credit card details or log-on to your PayPal account to complete the booking process. Currently, all other methods of payment are not acceptable.
Booking.com hotels all accept credit card payments (Visa, Master Card). Some hotels also accept other credit cards, such as American Express, for reservation purposes. You can see which credit cards a hotel accepts in the Hotel Policies section under the hotel description and also when making your booking. American Express is not widely accepted in Indonesia so it is definitely worth checking with the hotel prior to arrival.
Why do the prices differ by a day or from the last time I checked the website?
Virginbookings.com is all about getting our customers a good rate. Prices will vary depending on the season, which can mean different rates for different dates. We also periodically factor in exchange rate changes. We fluctuate along with these trends.
Do you charge a payment processing fee?
Yes. All bookings carry a 3% payment processing fee, regardless your method of payment. Your bank may also levy a transaction fee for making an international payment. In such cases, we advise you to contact your bank or credit card issuer for more information.
Website Security & Privacy Policy

How do I know your site is secure?
Once you have booked through Virginbookings.com, your details are stored on our secure server, which cannot be accessed by anyone external to our company. These details are protected by the latest SSL (Secure Socket Layer) technology, which is independently certified by Global sign. The hotel bookings take place on our affiliate sites; www.booking.com and Agoda. Please see their Terms and Conditions, Privacy Statement, and FAQ.
What do you do with my personal information
For fast boat bookings, your details will be passed to the boat company. Your card details will be securely dealt with by our payment providers, PayPal and Emerchantpay. Any information entered into the online booking page is securely encrypted and protects your personal information from being tampered with. We will keep your card details on file indefinitely after you have made a reservation. This is to assist in any customer service issues that may arise and to ensure that we meet any legal requirements relating to tax, etc.

Who are Virginbookings.com?
We are an online travel company that specializes in island destinations around the world. We've taken 20 years of business and tourism experience and combined this with 15 years of experience building highly professional websites. The result is Virginbookings.com, Fiji-bookings.com, Gilibookings.com, Seychellesbooking.com and StMartinbookings.com just to name a few. Our goal is to bring together all the Virgin Islands ferry routes in one easy-to-use webpage. To ensure fast, safe and reliable services, we only feature the leading operators between islands which makes planning a trip or booking an adventure easy. We also provide you with our recommended travel tips and hotels to help you plan the perfect island getaway.
How do I leave feedback about the Virginbookings.com site?
We would really appreciate any comments/ feedback you have on the Virginbookings.com site - just email us at [email protected] to give us any feedback you have. You can also check out and like our facebook page.
How do I report a technical issue?
If you experience any problems while on Fiji-bookings.com please let us know and we will try and fix the issue straight away. Send us an email to offic[email protected]
How do I leave a hotel review?
We suggest that you use one of the popular review websites like TripAdvisor.