Ferry from St Thomas to Tortola
Inter-Island boat services have been operating between the US Virgin Islands and the British Virgin Islands for more than 35 years. The ferry service provides transfers for locals and tourists alike on a daily basis. Depending on season, there are multiple departures scheduled throughout the day. Simply use the search box to check timings and prices and book your e-ticket for travel between St Thomas and Tortola. For more information on how to book, you can check our How to Book page. Enjoy a comfortable and quick journey with Inter Island ferries.
Inter-Island Boat Services schedules offer daily crossings. The ferry departs from Red Hook in St Thomas, at 7.15 AM or at 12.30 PM. The arrival ferry dock is West End Tortola. The route from St Thomas to Tortola takes about 45 minutes. While some other boat companies operate between Charlotte Amalie and Road Town Tortola such as
Native Son Ferry
and
Smith's Fast Ferry
, the Inter Island Ferry route goes from
Red Hook to West End
.
Inter-Island boat services schedule:
From:

To:
Departure days:
Departure time:

Approx. Arrival Time:

St. John (Cruz Bay)
St. Thomas (Charlotte Amalie)
Weekdays
11.00 AM
4.15 PM

11.30 AM
4.45 PM

Weekends
11.00 AM
1.15 PM
4.15 PM
11.30 AM
1.45 PM
4.45 PM
St. Thomas (Charlotte Amalie)
St. John (Cruz Bay)
Weekdays
3.30 PM
5.30 PM
4.00 PM
6.00 PM
Weekends
2.15 PM
3.30 PM
5.30 PM
2.45 PM
4.00 PM
6.00 PM
From:

Days of service:
Departure time:
Stops at:
Departure time:
To:
Approx. Arrival:
St. Thomas (Red Hook)
Tuesday
Friday
Sunday
7.30 AM
St. John (Cruz Bay)
8.00 AM
Jost Van Dyke (Great Harbor)

9.00 AM

Jost Van Dyke (Great Harbor)
Tuesday
Friday
Sunday
3.30 PM
St. John (Cruz Bay)
4.00 PM
St. Thomas (Red Hook)
5.00 PM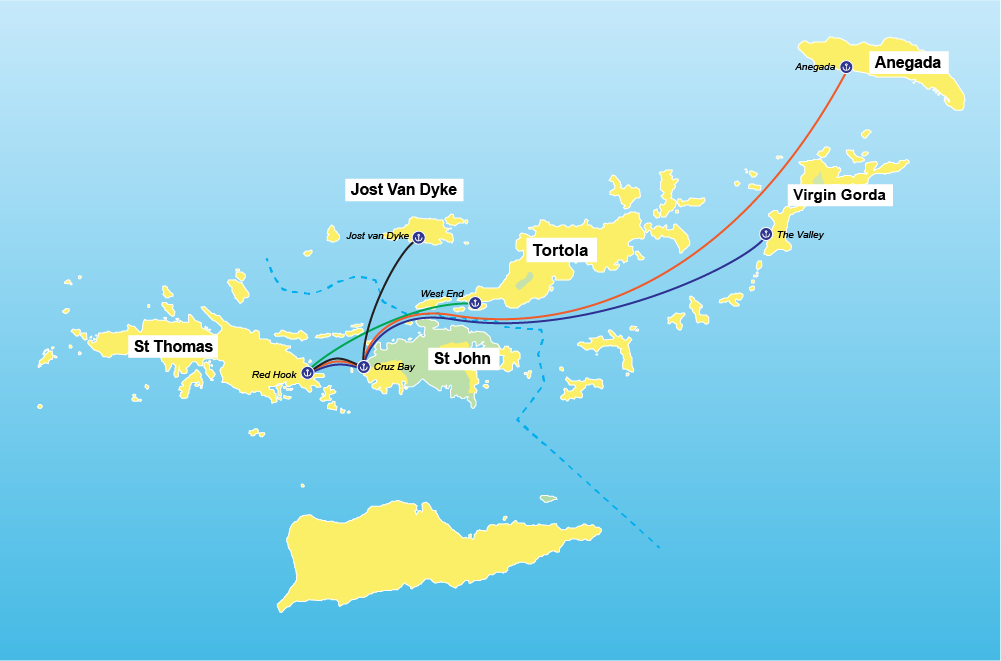 Red Hook St Thomas departure
St Thomas
is the main hub of the US Virgin Islands. Turquoise waters surround the Island and its rugged edges, making it a perfect spot for snorkling and scuba diving. You will find around 40 beaches in St Thomas! The Island is also rich in history and culture. It is home to the capital Charlotte Amalie, center of some of the best preserved colonial-era buildings in the Caribbean. If you are staying in Charlotte Amalie, you can take a taxi to Red Hook ferry dock. Charlotte Amalie is only 11.5km away from Red Hook, which will take you around 20 minutes by taxi, depanding on traffic. If you are arriving from the Airport in St Thomas, it will take about a 30-40-minutes drive across St Thomas to arrive to Red Hook.
You will be sailing from Red Hook,, located at the East End of St Thomas. Red Hook features a marina, shops, bars and restaurants. Red Hook is also hub for the boat community. You will find charters, fishing trips, boat rental companies and ferry departures to the other islands.
West End Tortola arrival
Tortola is the heart of the British Virgin Islands. While the southern shore is lively and busy, the North side of the Island displays tropical greenery, picturesque beaches and coves.Tortola waters are full of surprises, and perfect for diving. You will arrive in West End, with its marina and pastel-colored building complex hosting bars and restaurants. Once in Tortala, you could visit Tortola Road Town, the BVI Capital! It is a 20-25 minutes taxi ride. Taxis will be waiting when you arrive at the dock. Road Town Tortola is vibrant and offers a busy marina and some great restaurants and shopping. Taste the local sea food, cruise the bars and try some of the many watersports on offer. Looking for a more laid back vibe? Head to Cane Garden Bay with it's beautiful beaches overlooking the island of Jost van Dyke. A great place for a romantic sunset or, if you're staying in the area, sunrise SUP yoga on the translucent waters. On the other side of the island, check out trellis bay and it's art market, featuring internationally acclaimed handcrafted art at Aragorn's studio.
IMPORTANT NOTE: As you will be traveling to the British Virgin Islands from the US Virgin Islands you will first have to clear BVI immigration and customs. It is essential that you bring your valid passport.
Features:
Reliable scheduled services
Ideal for Day trips and Island hopping
Seat capacity up to 132 passengers
Terms and conditions
100% refund minus any charges applied to make the refund (see the general
Terms and Conditions
for cancellation charges) if cancelled more than 2 weeks before departure.
50% refund minus any charges applied to make the refund (see the general
Terms and Conditions
for cancellation charges) if cancelled less than 2 weeks but more than 48 hours before departure.
No refund if cancelled less than 48 hours before departure or for No-shows.
Date changes possible at any time, subject always to availability

NOTE: Departure & arrival tax is NOT included in the ticket price, these will be levied locally as follows - $8 departure USVI, $10 arrival BVI and $20 departure BVI.