Ferry from Tortola to St. Thomas
Tortola Fast Ferry has been operated by Smith's Ferry services for over 21 years in the BVI. The daily transfers are available between Tortola and St. Thomas, and also a number of other destinations, sometimes in conjunction with other ferry companies dependant on season. Simply use the search box to check schedules and prices and book your e-ticket for travel between Tortola and St Thomas.
Note: For resident Virgin Islanders looking for ferry tickets from Tortola to St Thomas, we recommend booking direct with Smith's ferry through their website.
Schedules and departure times for Tortola Fast Ferry
Smith's have a fleet of 6 vessels all ranging in capacity and size. Their boats depart from Road Town Tortola Harbor, Tortola and sail to Charlotte Amalie, St. Thomas (USVI) up to a couple of times per day.
They also offer seasonally service Virgin Gorda and Anegada. Perform a search to see the most up to date times and prices. Inter-Island Boat Services and Native Son Ferry also provide ferry transportation from St Thomas to Tortola.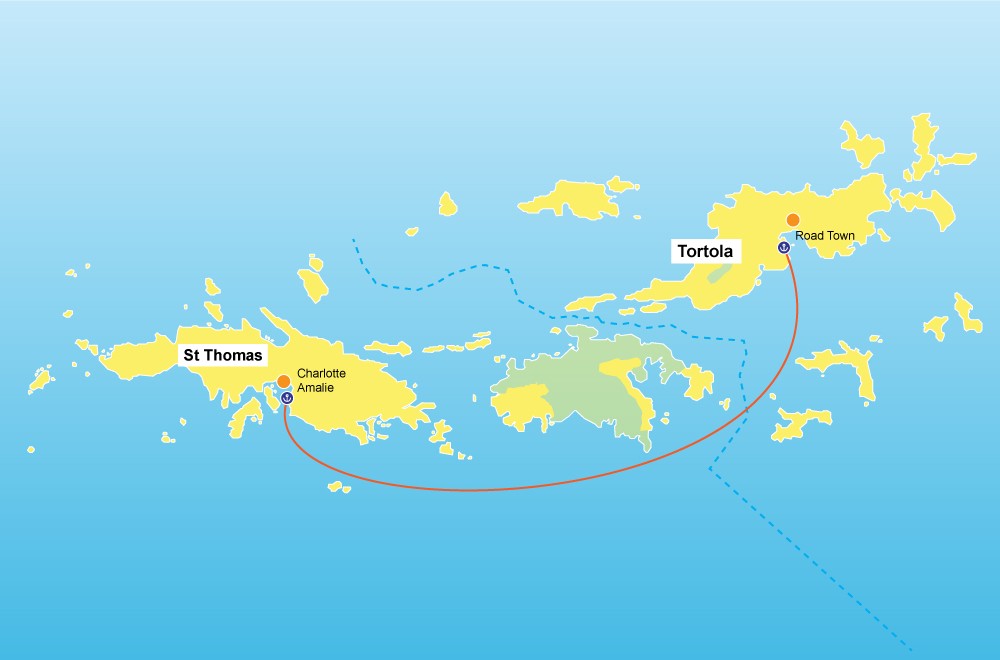 Road Town Tortola
Tortola is the most populous island of the British Virgin islands. the southern shore is busy as this is where local economy has its roots. You will find a lot of restaurants there. The North of the Island offers pristine views over turquoise caribbean waters. Lots of picturesque coves and beaches are to be found. You will depart from Road Town Tortola, the regional capital, in the center of the Islands south coast. Road Town Tortola is a centre of tourism and chartering.
Charlotte Amalie St Thomas
St Thomas is the main island of the US Virgin Islands. It is a historical and cultural center. The island has a lot of beautiful beaches and is a great location to go snorkelling and diving! The caribbean waters around St Thomas feature many fish species and colourful corals. You will arrive with the ferry to Charlotte Amalie. The city has some of the best preserved colonial-era building in the Caribbean! You can find plenty of restaurants and shops. If you are looking for some nightlife, take a 30 minutes taxi ride to Red Hook, where they party 'till late. It is also good to know that the Ferry Terminal is about a 10 minutes taxi drive to Charlotte Amalie Airport.
Passport information: As you will be traveling to the US Virgin Islands from the British Virgin Islands you will first have to clear US immigration and customs. It is important that you bring your passport.
Luggage information
Passengers need to check in at least 30 minutes before the departure and must have valid travel documents to pass through customs. Each passenger is allowed to have three pieces of luggage. An additional charge will apply. All passengers are responsible for their own luggage and other belongings.
Cancelation Policy
All cancellations for Smith's Tortola Fast Ferry tickets are subject to a maximum 75% refund policy, even in cases of inclement weather. If cancelled within 48hrs prior to departure, no refund can be allowed.
NOTE: Departure & arrival tax is NOT included in the ticket price, these will be levied locally as follows - $8 departure USVI, $10 arrival BVI and $20 departure BVI.