Ferry from St Thomas to St John
Inter-Island Boat services provides ferry transportation for both tourists and locals and has been in the business for over 30 years. Their ferry schedules offer multiple daily ferry transportation from St. Thomas to St John and back. Departing from Crown Bay marina, St. Thomas - just 5minutes taxi/car ride from st Thomas airport, this is the perfect ferry to St. John if you want the most direct and cost-effective route.
Simply use the search box to check the available timings and prices and make your booking. Enjoy a comfortable and quick journey from Crown bay St. Thomas to Cruz bay St. John, with Inter Island ferries. Simply book your valid e-tickets with us and check in using them on the day of travel at the ferry terminal.
Inter Island Ferry schedules:
From:

To:
Departure days:
Departure time:

Approx. Arrival Time:

St. John (Cruz Bay)
St. Thomas (Charlotte Amalie)
Weekdays
11.00 AM
4.15 PM

11.30 AM
4.45 PM

Weekends
11.00 AM
1.15 PM
4.15 PM
11.30 AM
1.45 PM
4.45 PM
St. Thomas (Charlotte Amalie)
St. John (Cruz Bay)
Weekdays
3.30 PM
5.30 PM
4.00 PM
6.00 PM
Weekends
2.15 PM
3.30 PM
5.30 PM
2.45 PM
4.00 PM
6.00 PM
From:

Days of service:
Departure time:
Stops at:
Departure time:
To:
Approx. Arrival:
St. Thomas (Red Hook)
Tuesday
Friday
Sunday
7.30 AM
St. John (Cruz Bay)
8.00 AM
Jost Van Dyke (Great Harbor)

9.00 AM

Jost Van Dyke (Great Harbor)
Tuesday
Friday
Sunday
3.30 PM
St. John (Cruz Bay)
4.00 PM
St. Thomas (Red Hook)
5.00 PM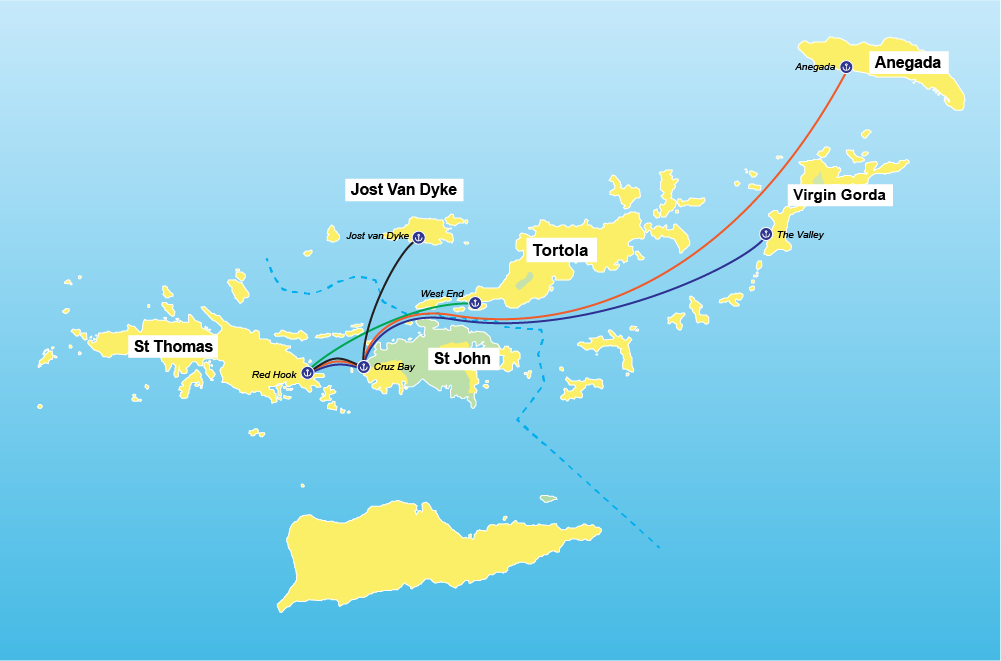 St Thomas Crown Bay departure
St Thomas is the US Virgin island main island. This caribbean paradise is surrounded by turquoise waters and displays many pristine beaches. The Island is rich in history and culture. It is home to the capital Charlotte Amalie. The ferry departs from Crown Bay, on the south side of the Island, just 5 mins drive from the Airport and close to downtown Charlotte Amalie. Crown bay is a large Marina with a section dedicated to the ferry dock for Inter Island. All sorts of amenities can be found in Crown Bay such as free Wi-Fi, restaurants, convenience stores, taxis, car rental (ideal if you like to create your own schedules), caribbean souvenir shops if you enjoy shopping, ATM, and tourist information. If you are arriving straight from St Thomas Airport, you can simply take taxi to Crown Bay. It is only a 5 minutes drive.
St John Cruz Bay arrival
St John is called the " Love city". About 60% of this caribbean island is a protected area and kept exceptionaly clean and well maintain. St John is a perfect island for day trips. You will arrive in Cruz Bay, the largest settlement on the island. Cruz Bay is located on the western coast. If you enjoy shopping, you will be happy to find the island's largest commercial center there. Casinos and bars can also be found along the beaches. If you like to swim in crystal waters, you will find designated swimming area with soft white sand. St John waters are also recommended for diving. You will encounter colorful corals, marine creatures and shipwrecks!
Features
Reliable scheduled services
Ideal for Day trips and Island hopping
Seat capacity up to 132 passengers
Terms and conditions
Tickets with Inter Island Boat Services between St Thomas and St John are non-refundable. Date and time changes are possible at any time, subject always to availability
NOTE: There is a $5 extra fee per item for checked luggage, payable on the day. Backpacks and carry-on bags are free.