Boats

»

Speedy's Ella G/Unforgettable
Ferry from St Thomas to Virgin Gorda
Speedy's Ferry services, based in Virgin Gorda, in the british Virgin Islands, offers fast, reliable and comfortable ferry services and ferry schedules from St. Thomas to Virgin Gorda and Tortola to Virgin Gorda. With their fleet of modern high-speed catamarans you can get from Charlotte Amalie to Virgin Gorda quickly and easily, from St. Thomas to Gorda and Virgin Gorda to Charlotte Amalie (St. Thomas) currently only on Saturdays.
Prices are affordable and round trip tickets have a discount applied. Note that this ferry service route crosses an international maritime border between the United States Virgin Islands (USVI) and the British Virgin Islands (BVI) so a valid passport is required. Also not included in the price is a USVI port tax of $10 and a BVI departure tax of $20, payable at check-in/boarding on the day of travel.
Speedy's Ferry schedule:
NOTE: All services are enforcing COVID-19 sanitary & social distancing protocols and all passengers are required to wear a mask.
| From: | To: | Departure days: | Departure time: | Approx. Arrival Time: |
| --- | --- | --- | --- | --- |
| Virgin Gorda (The Valley) | Charlotte Amelie (St. Thomas) | Saturdays | 8.30 AM | 10.00AM |
| Charlotte Amelie (St. Thomas) | Virgin Gorda (The Valley) | Saturdays | 4.00PM | 5.30PM |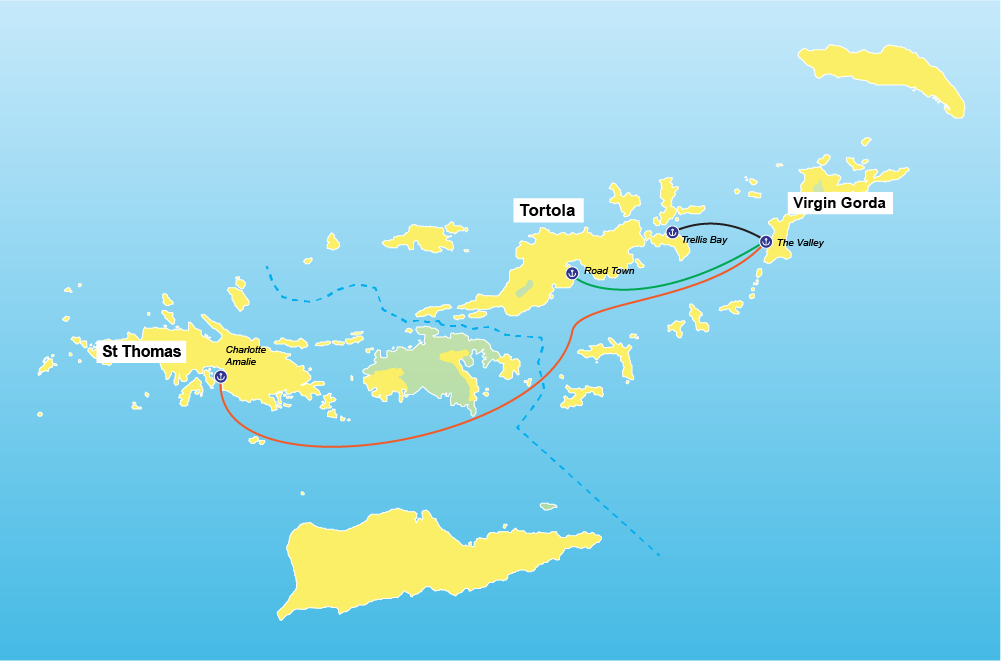 St Thomas Charlotte Amalie departure
St Thomas is the main Island of the US Virgin Islands. The mountainous island is surrounded by turquoise waters, perfect for snorkelling, scuba diving, sailing, kayaking, fishing and windsurfing! You can find around 40 beaches on the Island. St Thomas is rich of history and culture. Charlotte Amalie is a real historical center: the old streets and Fort Christian are a must see! Speedy's Ferry departs directly from Charlotte Amalie's Blythe Terminal harbor. The taxi or car from St. Thomas Airport to the harbor is approximately a 10 minutes ride. Taxis will be waiting at the airport and car rental is available at the airport.
Virgin Gorda arrival
Virgin Gorda is a real gem situated in the British Virgin Islands, offering a natural and pristine beauty, both above and below the water. Virgin Gorda waters display some of the most pristine spots for diving and snorkling. The famous "baths" can be found on the island: huge smooth boulders standing on the beach, creating seawater pools, crevices and tunnels. You will arrive at the Ferry Dock where you will find convenience stores, marina and watersports companies. From there you will be able to book various activities and tours. You could also take a taxi or a car to ride around the island if you like to make your own schedule. Make sure your taxi stops at the The Baths National Park! It is a must see. The British Virgin Islands also have many nice places to stay.
Ferry from Tortola to Virgin Gorda
Additionally, Speedy's offer multiple daily departures from Road Town Tortola to Virgin Gorda. Road Town is the capital of the British Virgin islands. It is a colourful city offering beaches, restaurants, bars, shopping and watersports opportunities. If you wish to travel from St. Thomas to Virgin Gorda on any other day besides Tuesdays and Saturdays when they operate their direct routes, you can opt for an Inter Island ferry from St. Thomas to Tortola and then catch the onward service to Virgin Gorda with Speedy's from there.
To book, simply use the search box filling in your route, dates and passengers and select from the results that appear. Feel free to contact us regarding the schedule or for any assistance at any time.