Ferry from Tortola to Virgin Gorda
Sensation Ferries have multiple departures a day from Monday to Saturday in both directions aboard their sleek & comfortable modern vessel, the "Dream Star".

The transportation from Road Town, Tortola to Spanish Town, Virgin Gorda, takes just 25mins. Sensation Ferry service is perfect for daytrippers wishing to visit the natural wonders of Gorda, such as the famous 'Baths' and beaches.

To book your ferry ticket to Virgin Gorda simply use our search box at the top of this page to check availability and prices, then proceed through the easy booking process to receive your immediate e-ticket boarding pass! Feel free to contact us regarding the ferry schedules or for any assistance at any time.
Sensation Ferries schedule:
From:
To:
Departure days:
Departure time:

Approx. Arrival Time:

Tortola (Road Town)
Virgin Gorda (The Valley)
Mondays - Fridays

6.45 AM
8.30 AM
11.45 AM
4:15 PM

7.15 AM
9.00 AM
12.15 AM
4:45 PM
Saturdays
8.30 AM
11.45 AM
4:15 PM
9.00 AM
12.15 AM
4:45 PM
Virgin Gorda (The Valley)
Tortola (Road Town)
Mondays - Fridays
7.30 AM
9.30 AM
1.45 PM
4:45 PM
8.00 AM
10.00 AM
2.15 PM
5:15 PM
Saturdays
9.30 AM
1.45 PM
4:45 PM
10.00 AM
2.15 PM
5:15 PM
Note: No Services on Sundays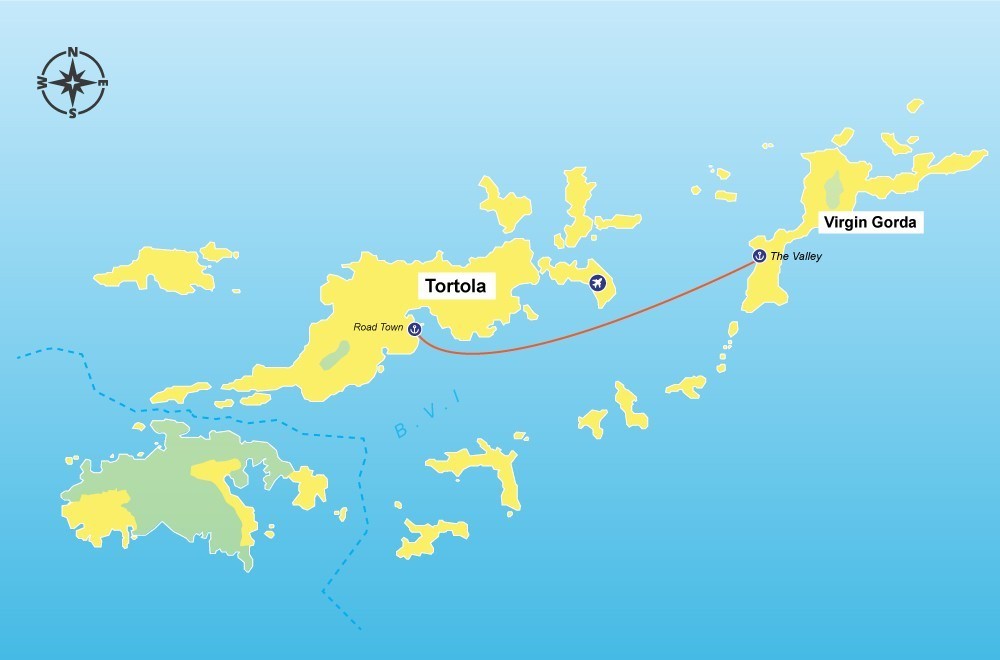 Road Town Tortola departure information
Tortola is characterized by its hidden coves, crystal waters (nice for diving) and lush rugged mountains. The Island hosts the regional capital, Road Town, situated halfway along the southern coast. Road Town Harbour is one of the most developed and best equipped in the region. Road Town is a colourful city, with plenty of restaurants, bars, watersports companies, shopping opportunities and beaches. For your journey to Virgin Gorda, you will embark from the Road Town ferry terminal near the marina. If you arrive from Beef Island Airport, it will take you about 25 minutes to get from the airport to the dock with a taxi or a car. Taxis will be waiting at the airport arrivals. Alternatively, there is also a small ferry service from Beef Island to Gorda.
Spanish Town Virgin Gorda arrival information
Virgin Gorda is a pristine and natural gem of the British Virgin Islands with breathtaking views of the BVI and open Atlantic ocean. The ferry will drop you off at the ferry dock in Spanish Town, the main settlement on the island. Around the marina, you will find a few convenience stores, watersports companies and places to eat. You can also rent a car, take a taxi or book various day tours from there. Taxi or car rental is nice when you wish to explore at your own pace and be in charge of your own transportation. The shallow waters with sandy bottom and sloping reef around the island are perfect for snorkelling and diving. You will be able to see and expore shoals of fish, sharks, rays and wrecks. Don't forget to visit the famous bucket list destination: The Virgin Gorda Baths!
Cancellation and amendment policy
Sensation Ferries allows booking amendment up to 48 hours prior to departure. Online/Mobile ticket bookings can be cancelled for free seven (7) days prior to date of travel for full refund, thereafter bookings are non-refundable.
Boat Details:
SPECIFICATIONS
Craft Name:
Dream Star
Length Overall:
98 feet
Vessel tonnage:
97 tonnes
Passengers:
235
AMENETIES
Air Conditioning:
Yes
Complimentary mints:
Yes
Free Wifi:
Yes
Movies:
Yes
Onboard Snacks & Drinks:
Yes
Secure Baggage Area:
Yes
Flat Screen TVs:
Yes
Complimentary Water Onboard:
Yes
Comfortable Cabin Seating:
Yes
Sun Deck Seating:
Yes