Boats

»

Native Son Oriole
Ferry from Red Hook to Tortola
Native Son Ferry provides daily transfers from Red Hook St. Thomas to Tortola and back. Use tour search box to discover prices and current availability, and to book your ticket.
Native Son Inc. is the pioneer of ferry services in the Virgin Islands, having served the region for nearly 40 years since the company's inception in 1977. Their reliable, sturdy fleet of ferries are designed to handle the seas around the USVI and BVI with ease.

West End Tortola Ferry
The crossing time between West End Tortola to Red Hook St Thomas is approximately 30 minutes, while the Road Town to Redhook departure takes approx 45 minutes. The high speed vessels each have an air conditioned cabin and outside sun deck where you can enjoy amazing views of the surrounding Virgin islands, particularly the north shore of St. John USVI national park.

Red Hook Ferry Schedule
| From: | To: | Departure days: | Departure time: | Approx. Arrival Time: |
| --- | --- | --- | --- | --- |
| St. Thomas (Charlotte Amalie) | St. Croix (Chritiansted) | Fridays, Wednesdays & Sundays | 8:00 AM | 9:30 AM |
| St. Croix (Chritiansted) | St. Thomas (Charlotte Amalie) | Fridays, Wednesdays & Sundays | 4.00 PM | 5.30 PM |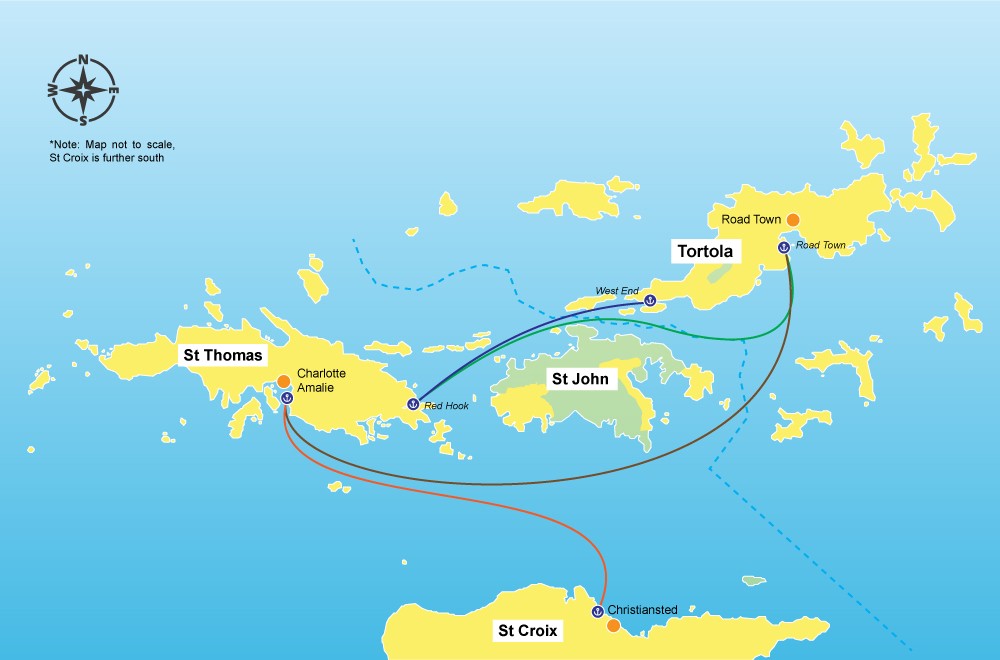 Baggage Policy
One (1) carry-on bag: No charge. Checked bags: $5 for each bag.

All luggage/baggage must be checked in at the counter.
Baggage Classifications:
Carry On - One bag, up to 30lbs allowed that fits into 22 x 14 x 9 in (56 x 36 x 23 cm) sizing unit (regular roller bag)
Checked Baggage - Any bag up to 50lbs. Baggage in excess of 50lbs and oversized baggage may be subject to additional charges.

Additional fees: port fees, security taxes and departure taxes are not included in your ticket cost. Please note: port fees are $10 from St. Thomas to Tortola. Fees from Tortola to St. Thomas are $15 for BVI residents, and $20 for non-residents.
Native Son Ferry Fleet:
SPECIFICATIONS
Craft Name:
Adventurer
Express
Native Son Oriole
Construction:
Aluminum
Aluminum
Aluminium
Type:
Ferry
Ferry
Ferry
Full Load Capacity:
28 Short ton
Passengers:
267
307
149
Net Tonnage:
66
67
67
Overall Length:
100 Feet
100 Feet
94.8 Feet
Overall Breadth:
21.5 Feet
25 Feet
21.5 Feet
Height:
29 Feet
30 Feet
25 Feet
Horsepower rating:
2025
1200
1800