Blog

»

Virgin Islands best places to Eat - 2021
Without doubt, the
British Virgin Islands
and the
U.S. Virgin Islands
are famous for their stunning beaches, clear waters, lush nature and sunny weather. However, the culinary scene is not to be overlooked. The Virgin Islands are also a paradise for the foodie! In fact, great food and drink are a deep-rooted part of Virgin Island culture.
The local food is the result of interactions between Natives and Europeans during the early years of exploration and the Creole culinary tradition during and since colonization. Besides this wide vareity of unique Caribbean flavors, there is some recognizable variance between the two terriotries of the USVI and BVI; the former offering American home comforts such as great Beefburgers, BBQ's and Key Lime Pie - with the latter catering to British tradition and serving full Sunday Roasts! So prepare your forks, and sharpen your knife, there is a real richness to Virgin Islands gastronomy! Discover curried meat, fungi, callaloo, hulking shellfish and much more. And do not forget to wash it down with a signature cocktail or the famous Cruzan Rum!
It's not easy to choose among so many culinary gems, so we combed the Virgin Island's white sands for you, and made a list of the best places to eat in the Virgin Islands (both BVI and USVI)! From great street food to fine dining, there is something for everyone!
Best places to eat in the U.S. Virgin Islands
Best restaurants St Thomas
PRIME at Paradise Point, St Thomas
This restaurant will give you a fine dining experience at it's best, with an incredible view of Charlotte Amalie! This American Steakhouse also features seafood and has gluten-free and vegetarian options. The service is outstanding, and the atmosphere very cosy. The place is perfect for a romantic date night, and if you come at the right time, you will catch an incredible sunset!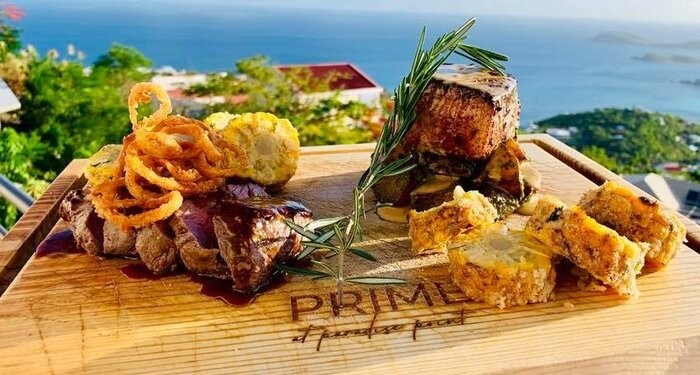 Oceana Restaurant & Bistro, St Thomas
This establishment was once owned by the first Danish Governor of St. Thomas, between 1672 & 1679 and is now the perfect place to enjoy a romantic meal in a private villa, facing the ocean. They are known for their house-made flatbreads and house-infused cocktails. Standout dishes included the mussels and the seafood paella. Their wine selection is excellent and the happy hour is very lively!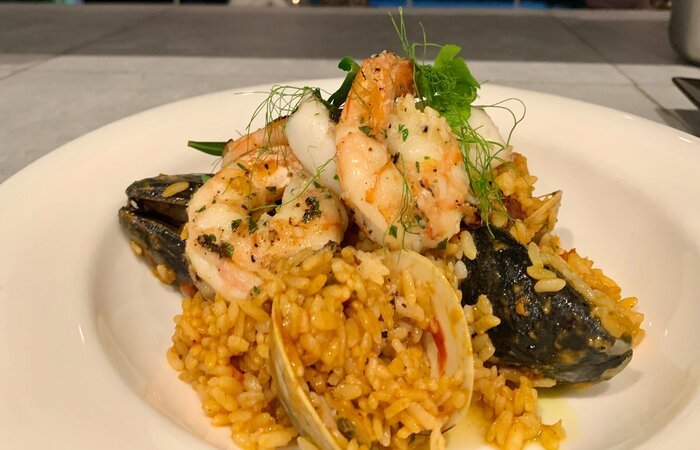 Vinny's Food Cart, St Thomas
This authentic food truck makes delicious local cuisine, right off the beach. The menu changes daily. You might find Johnny cake, fish, curry chicken, pork chops, macaroni & cheese, potato salad and passion fruit juice! Vinny treats customers like family and has great conversation.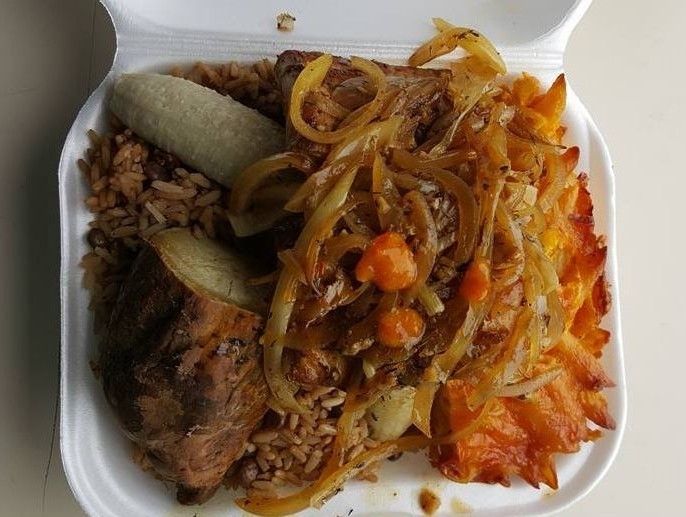 Best restaurants in St John
This friendly local spot, just 2 miles up from Cruz or Coral Bay is very colorful and great to catch your favourite sports game! They offer speciality pizzas, burgers and sandwiches, salads and diverse snack platters. Vegan options are also available.

Their drink prices are unbeatable, and Happy Hour is every day between 3:00 pm-6:00 pm.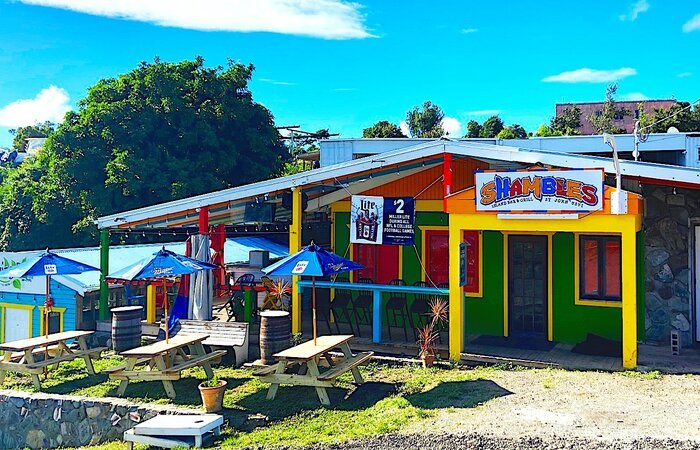 Located in beautiful Coral Bay, Skinny legs is a funky open air bar and grill, with a laid back atmosphere. You will be able to relax with the locals and get a drink and a burger. Burgers and Sandwiches are served on a locally made hamburger bun. And they are proud of not using a deep fryer! You could also enjoy a house-made treat to satisfy your sweet tooth! They are famous for their Key Lime Pie. Their drinks are shaken, not blended as they call themselves a " proud blender-free zone".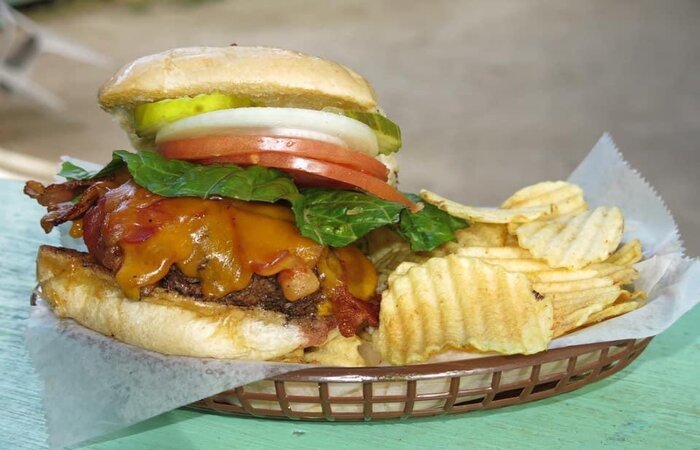 Best restaurants in St Croix
This outstanding place serves Caribbean and Continental cuisine for lunch, dinner and Sunday Brunch!

Their deck bar is the place to be to enjoy fantastic harbour views and spectacular sunsets with a cocktail and some little bites. You could order the Rumrunner, their house speciality! It is some Cruzan Coconut and Banana rums blended with blackberry brandy, grenadine, sour mix, and pineapple juice, shaken, then topped with Black Strap rum and a cherry.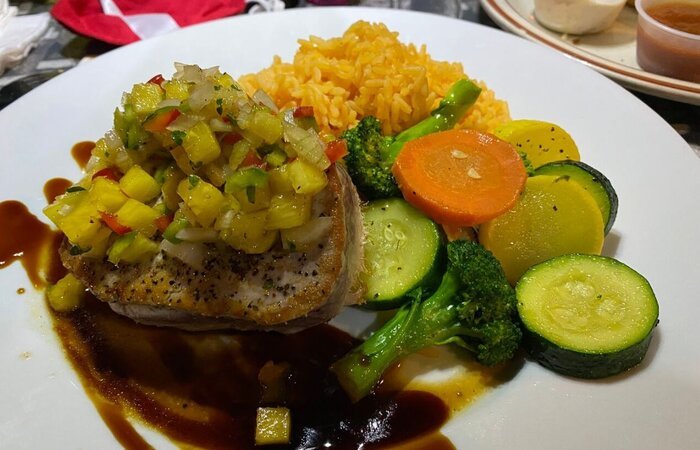 This Café is great for breakfast or lunch. Located in the heart of Christiansted, they serve tasty, fresh and healthy food. Their breakfast menu includes blueberry pancakes, french toast, breakfast wraps and omelette. Their lunch menu includes curried chicken, mahi-mahi filet, roast pork and vegetarian burrito.
This little red and black 'gypsy cart' is St Croix's only artisanal bakery and food truck in the rainforest! Nidulari specializes in wood-fired artisanal baked goods! Menu changes daily, and she only uses fresh ingredients. Try out Indian curries, British-influenced dishes, and Southern comfort food. The menu includes vegan and gluten-free options.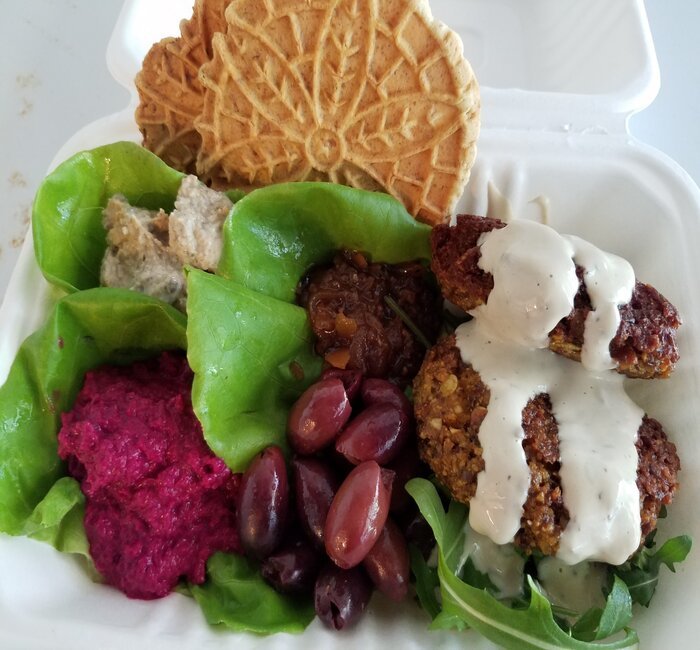 Best places to eat in the British Virgin Islands
Brandywine Estate Restaurant, Tortola
Brandywine is a little slice of paradise, with great food, beautiful views and refined but homely ambience. Indulge yourself with some of the best French seafood and Mediterranean dishes. They cook with fresh ingredients and have daily specials. The restaurant is perfect for a romantic date night with the staff making great recommendations for food and drinks. A well-rounded selection of wines is available, combining French and New World. They also offer a delicious traditional British Sunday roast, with roast beef, Yorkshire puddings and all the trimmings.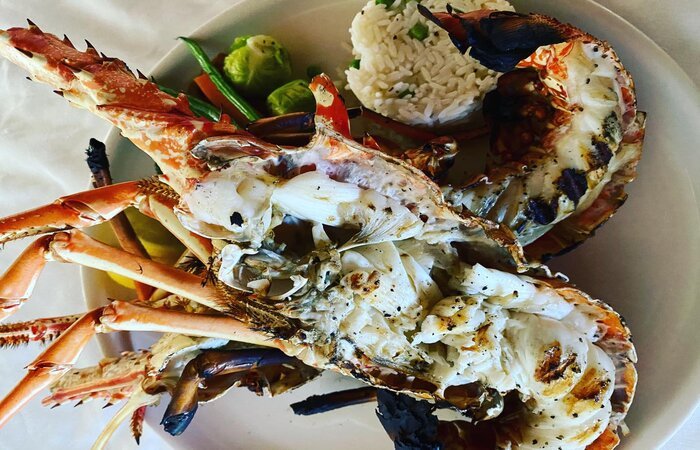 If you want great local grub for breakfast and lunch, this is the place to go! Their authentic Johnny Cakes and Patties are to die for.

Johnny Cakes are an Antillean snack. They are fried hearty buns and can be served much like a bagel with egg, bacon and other toppings.
Local traditional patties are like a small deep-fried Cornish pasty, containing saltfish, chicken, beef or vegetarian fillings.
We highly recommend tasting these two traditional snacks!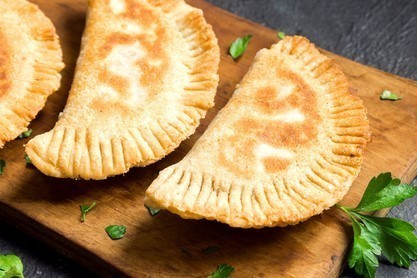 This is Gorda's most fashionable restaurant & bar. Located just minutes from the iconic "Baths", this idyllic white sand location overlooks the turquoise waters of Tortola. Coco Maya will give you the "beach chic" experience. Their cuisine fuses flavours of South East Asia & Latin America with a touch of Caribbean and is designed to be ordered family or tapas-style. Don't be surprised if you rub shoulders with the famous here!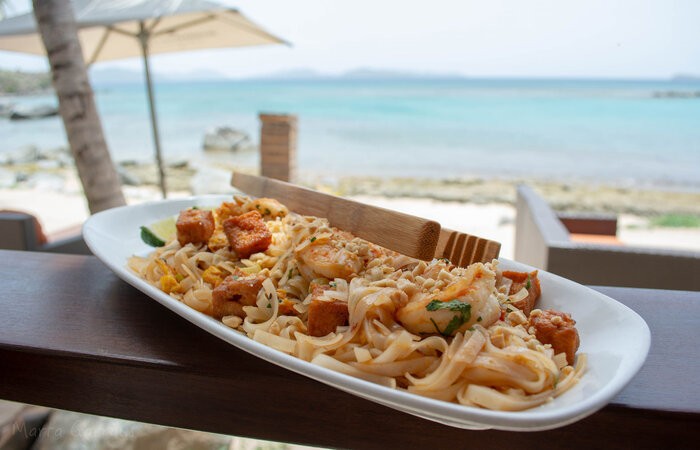 Anegada Beach Club, Anegada
You will dine with your toes-in-the-sand, by the pool. Fresh, local lobster, conch and triggerfish are always on the menu. For lunch, try their speciality sandwiches like their Anegada BLLT – a Bacon Lettuce & Tomato with Grilled Lobster! For diner, try out a curry or a fresh Lobster!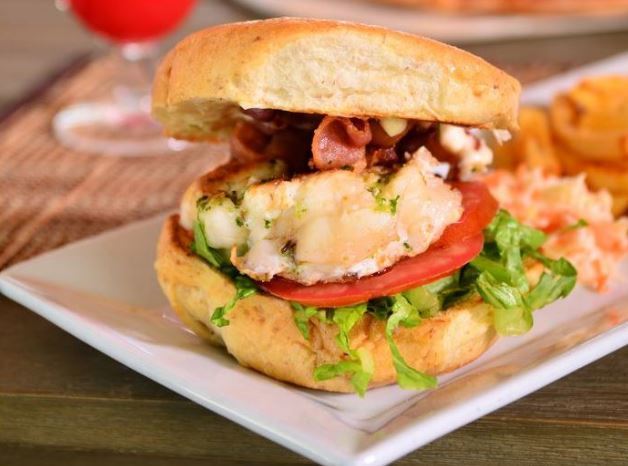 Abes By The Sea, Jost Van Dyke
The place to be to eat the best fresh lobsters on Jost Van Dyke little Harbour. We would advise calling to let Abes know how many will be in your party and by all means order the lobsters!

The restaurant offers a real island friendly atmosphere, right on the water. You can watch pelicans dive-bomb for fish while you wait for your food. They also have a courtesy bar: you can pour your own drinks!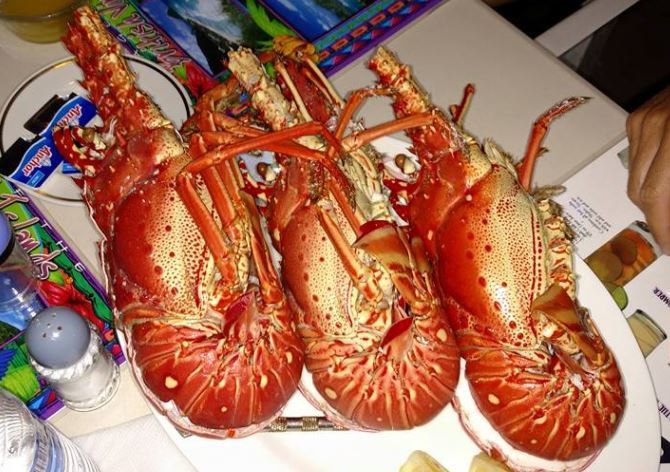 About the author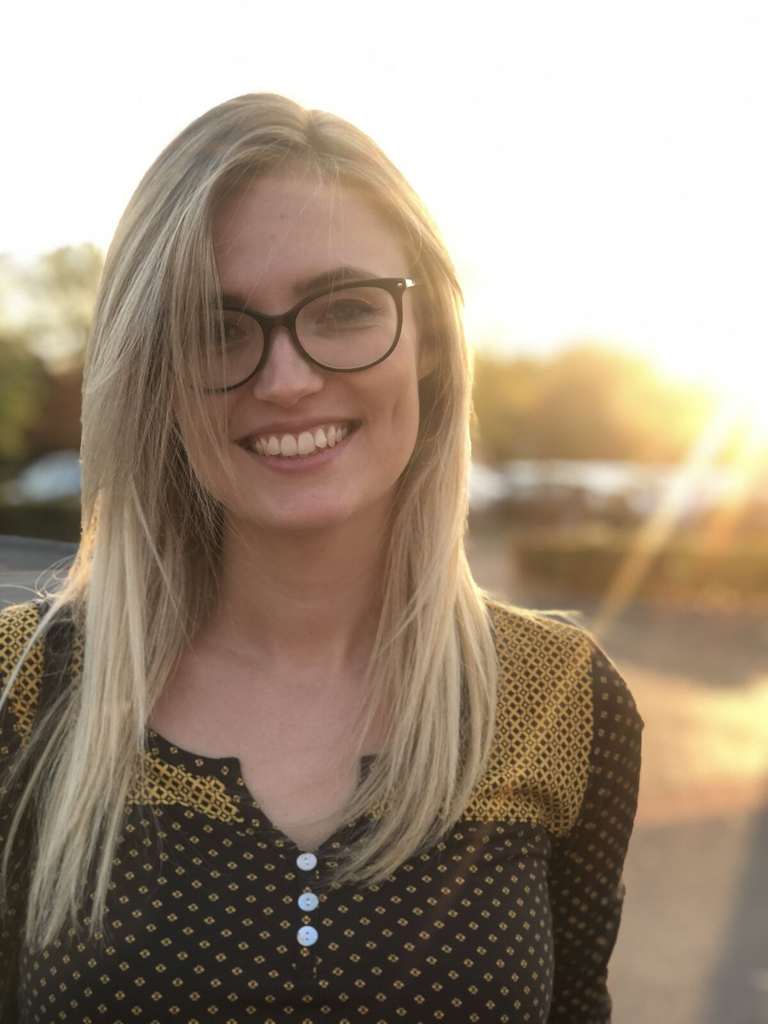 Hi! I'm Axelle, the Virginbookings.com
writer of this blog post.
If you have questions or feedback, feel free to contact me on: